Breakfast Casserole [21DSD, Paleo, Primal, GF]
While visiting my Aunt Regina and Uncle John in Austin for our trip to South by Southwest in 2010, she made us a delicious breakfast casserole. Ever since then I've played with the recipe and made it my own.
First, I added MORE veggies to the original recipe, because, well, VEGGIES. Next, I began omitting the potatoes when we went Paleo. I've made it with several different meat options; just bacon, bacon and sausage, just sausage, or some leftover ham during the holidays. My latest version has no cheese since I'm avoiding most dairy. No matter which version you make, it's sure to be a crow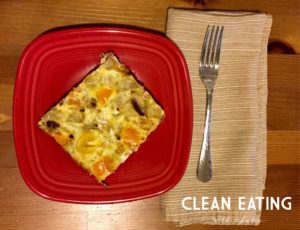 d pleaser. This is my current go-to version.
This is the perfect recipe for Sunday brunch, Christmas breakfast (our tradition), or to make ahead for quick-and-easy breakfasts for the week. While on The 21-Day Sugar Detox, this has been a great option for my husband and I. Let me know what you think!
Recipe:
1 dozen pasture-raised eggs
8 slices of pasture-raised bacon, cooked and chopped
1 can of diced green chilies
2 bell peppers, diced
1 yellow onion, diced
1 t sea salt
1/2 t ground pepper
1/2 t granulated garlic
1/2 t red pepper flakes
1 T grass-fed butter
1 t coconut oil
Optional (any or all):
1 C grated cheddar cheese
1 large russet potato, grated
1/2 lb ground pork sausage
1 C ham
Directions:
Preheat oven to 350°.
Grease a 13″ x 9″ pan with coconut oil.
Sauté the bell peppers and onions in a skillet with the butter.
Crack the eggs into a bowl and scramble. Season with sea salt, pepper, red pepper flakes, and garlic.
In the baking dish, layer the bell peppers, onions, chili peppers, bacon, and eggs.
Optional: If using the optional items, layer the potatoes first and the cheese on top. Cook the pork sausage and include it in the egg mixture. If using the ham include it in the egg mixture. Feel free to include whatever meat you have on hand or you prefer.
Bake for 30-40 minutes or until firm in the middle. Cool for 10 minutes and then serve. Enjoy!
Eggs are a good source of protein and healthy fat; often considered a "perfect food". They are a good source of vitamins B12, B6, and D, riboflavin, choline, phosphorous, selenium, folic acid, pantothenic acid, iron, and omega-3s. It is important to choose pasture-raised, organic eggs because they are rich in the above nutrients, while factory-farmed eggs generally are not.
Green Bell Peppers are one of the most nutrient dense foods and are a great source of fiber. They are rich in vitamins C, K, B6, thiamin, folic acid, and also beta-carotene. They are great sources of phytonutrients. Green bell peppers help prevent against cataracts, prevent blood clots, which reduces risk of heart attacks and strokes.
Onions are a good source of vitamins C and B6, potassium, and manganese. They are also rich in antioxidants, particularly quercetin, kaempferol, and myricetin, which all play a role in cancer prevention. Onions also help to reduce the risk of cardiovascular disease and osteoporosis.
References:
Bauman, E. & Friedlander, J. (2014). Therapeutic Nutrition. Penngrove, CA: Bauman College Press.
Murray, M., Pizzorno, J., & Pizzorno, L. (2005). Encyclopedia of Healing Foods
. New York, NY: Atria Books.
Health & Hugs <3,
Katie