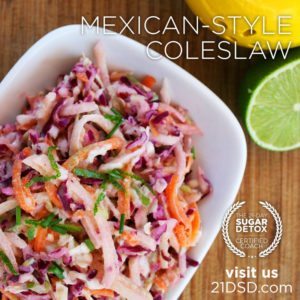 Here is a 21DSD compliant version of my Mexican-Style Coleslaw.
This is quite possibly the easiest deviled eggs that you'll ever make. I had a dinner gathering to attend and completely forgot that I said I'd bring an appetizer. We had basically ZERO food in the fridge, but we did have eggs, Primal Kitchen Chipotle Lime Mayo, a lime, and cilantro. So I decided to give it a go! My uncle raved about these deviled eggs, so I knew they were good enough to make again for Christmas Eve dinner at a friend's house. There were already deviled eggs at the party, (OOPS!) but mine flew off the platter. Needless to say, I knew I needed to blog about this recipe.
I would love to know your thoughts!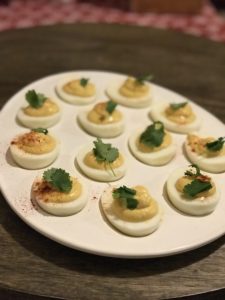 Recipe:
6 eggs, hardboiled
1/4 cup Primal Kitchen Chipotle Lime Mayo
half of 1 lime, juiced
1 tsp. sea salt
paprika, for garnish
12 cilantro leaves , for garnish
Maldon sea salt (optional), for garnish
Directions:
If you have an Instant Pot, you *need* to hard boil your eggs with it. Even farm fresh eggs peel like butter. Add 1 cup of water to the IP. Place 6 eggs in the IP on the removable rack or in a steamer basket. Using the Manual feature and the + / – button to adjust to 7 minutes. (I have found that 7 minutes is the sweet spot for me, but yours may range from 6-8 minutes). When the IP is done, manually release the pressure and add eggs to an ice bath to stop the eggs from continuing to cook. Peel! If you don't have an Instant Pot, you should get one! In all seriousness, feel free to hard boil your eggs however you like.
Once the eggs are peeled, halve the eggs. Place the yolks, mayo, sea salt, and lime juice in a bowl. Use an immersion blender to combine the ingredients until the texture is smooth and creamy.
Spoon the yolk mixture back into the eggs.
Sprinkle with paprika and Maldon sea salt (if using).  Add a cilantro leaf to each deviled egg.
Enjoy!
PS – I can't wait for Primal Kitchen Santa Cruz to open. I imagine they will be rocking some deviled eggs on their menu too. It is estimated to open in April of 2018.
PPS – Oh and the even better news, these are 21 Day Sugar Detox compliant!
Mexican Style Coleslaw [GF, Paleo, Primal, Vegetarian]
Weekly shopping trips to the farmer's market are my inspiration for the week's menu. Some people plan their meals around what's on their shopping list, but I go to the farmer's market to see what produce is in season and let that guide my weekly meal planning. Then I head to grocery store to pick up whatever else I need for the week's meals. I realize this may seem backwards to many, but eating seasonally is my thing, so you're probably not too surprised! 😉
This past week, there were the cutest little heads of cabbage for one dollar each. I decided coleslaw would make a great accompaniment to the Mustard Glazed Chicken Thighs from The 21-Day S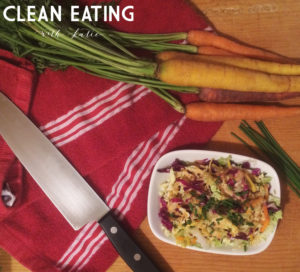 ugar Detox: Bust Sugar & Carb Cravings Naturally
.
I always make my own paleo mayonnaise, but I remembered that I recently got a free jar of Primal Kitchen Chipotle Lime Avocado Mayo
from Thrive Market. I was feeling a bit lazy and not wanting to make my own mayo, especially when I had a perfectly good paleo mayo on hand. I decided I would "make it work".  Then I had a lightbulb moment: what if I made a coleslaw that had a Mexican flare to it? And thus Mexican style coleslaw was born. This coleslaw was much, much better than simply "making it work". I have made this huge batch of coleslaw 3 times in the span of one week. My husband looks at me with a big goofy grin when he eats it, because it is just that good. It was also a HUGE hit at our Father's Day picnic at the winery. I hope you enjoy it as much as we did!
Recipe:
1 small head of purple cabbage, sliced
1 small head of green cabbage, sliced
6 stalks of celery, grated
6 medium carrots, grated
1 small jicama, grated
1 medium yellow onion, grated
1 cup Primal Kitchen Chipotle Lime Mayo
1/2 cup apple cider vinegar
1/4 cup Dijon mustard
1/4 cup raw local honey
1 t cumin
1 t chili powder
1 t cayenne pepper
2 t garlic sea salt
1 lemon, juiced
freshly cracked pepper
the zest of one lemon
minced chives, for garnish
Directions:
I prefer using a food processor to grate and slice my veggies. It makes making a big batch of coleslaw that much easier. But feel free to slice and grate your veggies however you like. 🙂
In a large bowl, mix all the veggie ingredients. (Reserve the chives and lemon zest.)
In a small bowl, whisk mayo, vinegar, mustard, honey, and herbs and spices. Add the lemon zest.
Stir the dressing onto the coleslaw and top with chives.
Serve and Enjoy!
Serves 12-16
Hugs & Health <3,
Katie