This month's Clean Eating Book of the Month is a little different than usual. Typically I read and review informational health books, not usually cookbooks. BUT Practical Paleo, 2nd Edition
is actually both. It's chock full of recipes, but it's also a huge resource for health information. It's almost like a BOGO. 🙂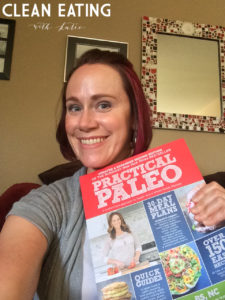 For me, the great thing about all of Diane's work is that we both went to the same nutrition school – Bauman College, so I know that we are coming from the same background.
First, let me say that this book is HUGE. And by huge I mean filled to the brim with tasty recipes. You will not feel deprived when cooking recipes from Practical Paleo. And the photography is beautiful, as always! I can't tell you how much I hate a cookbook without pictures! The great thing about her recipe section is that each recipe has easy-to-understand icons indicating if foods have eggs, nightshades, are slow cooker friendly, 21 DSD compliant, or can easily be frozen. Her recipe icon list includes many more options. Diane's recipes are also straightforward, easy to follow, and delicious.
In addition to the amazing recipes, there are about 90 pages of meal plans that can support many different health conditions. She details 14 different health conditions/targeted meal plans, and includes information about the health condition, things to add, things to avoid, some possible supplements to consider, and a 30 day meal plan. Wow! And the second addition has three new meal plans.
The other major section of the book is about food and your body. In typical Diane fashion, she breaks down the nutritional biochemistry of how food works in your body. She spends time explaining paleo and helps folks transition into a paleo lifestyle. There are several handy one-page guides that explain about healthy fats, sweeteners, carbs, paleo foods, and more. She uses the latest scientific information to debunk myths. There is a section that details how digestion works and how to repair it when it's not working. Diane details autoimmune conditions and balancing blood sugar. And let's not forget the Poop Pageant!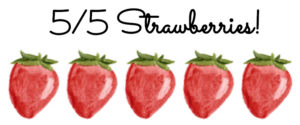 This book has been dubbed the Paleo bible for a good reason. It really has everything you need to understand about a whole-food based diet. Naturally, this book gets…. 5 Strawberries! I highly recommend going out and getting yourself a copy.
Here is a picture of me with Diane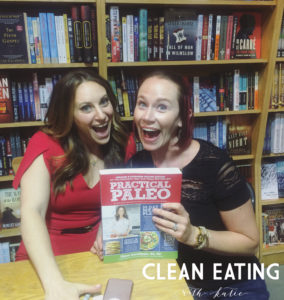 and my new book at the book tour in San Francisco.