March 27-29, 2020 – Mercey Hot Springs, CA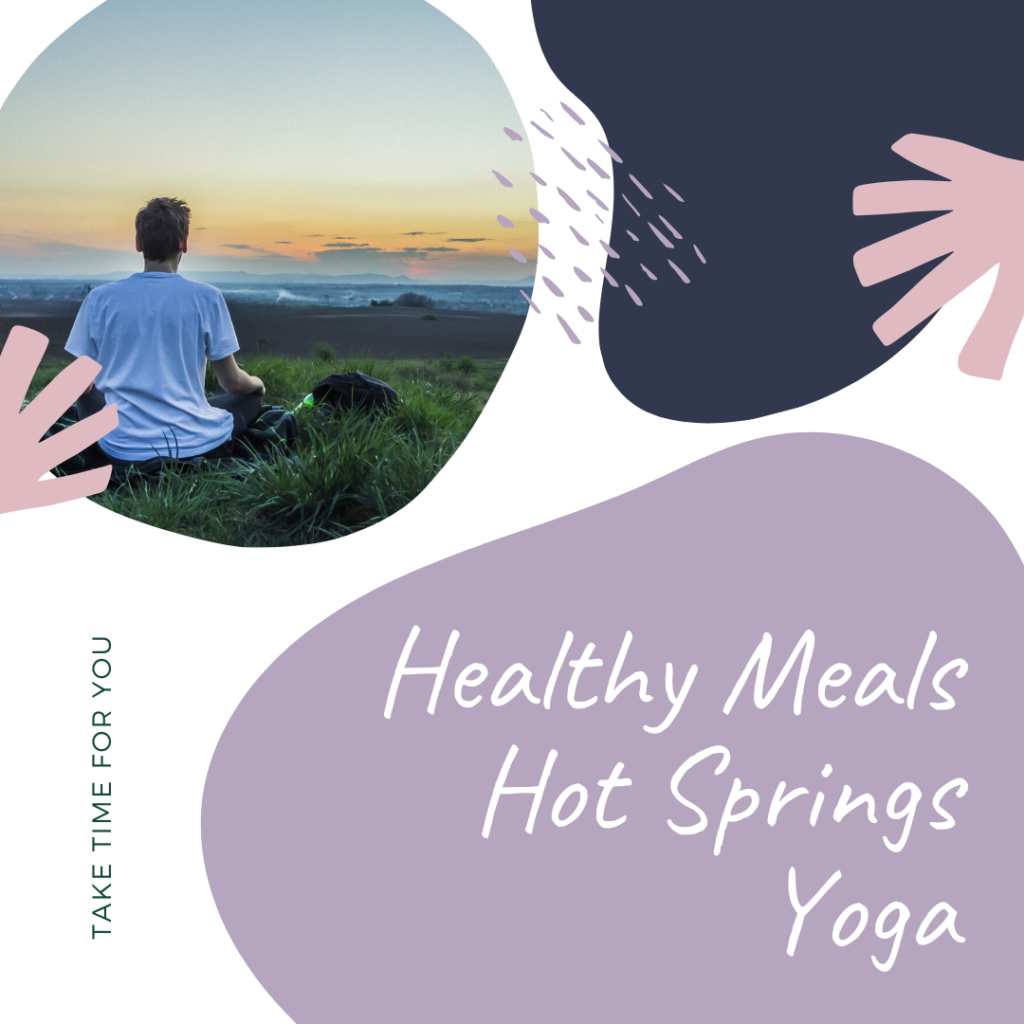 Better together right? This spring, Sarah Piramoon, Pam Peterson, and I are joining wellness forces to bring you an intimate self-care retreat. We will spend three days and two nights at the quiet, relaxing, and rejuvenating Mercey Hot Springs in Firebaugh, CA. This is about a two-hour drive from San Jose, CA.
Healthy meals. Check.
Hot Springs. Check.
Yoga. Check.
Quiet time. Check.
Self-care. Check.
Detox. Check.
Morning Walks. Check.
IRL Community. Check.
Wellness Retreat Swag-bag. Check.
No matter your skill level or experience in any of the above areas, we will provide you with an unforgettable self-care weekend. You'll leave with your cup full and with ideas for how to make self-care a daily reality in everyday life at home.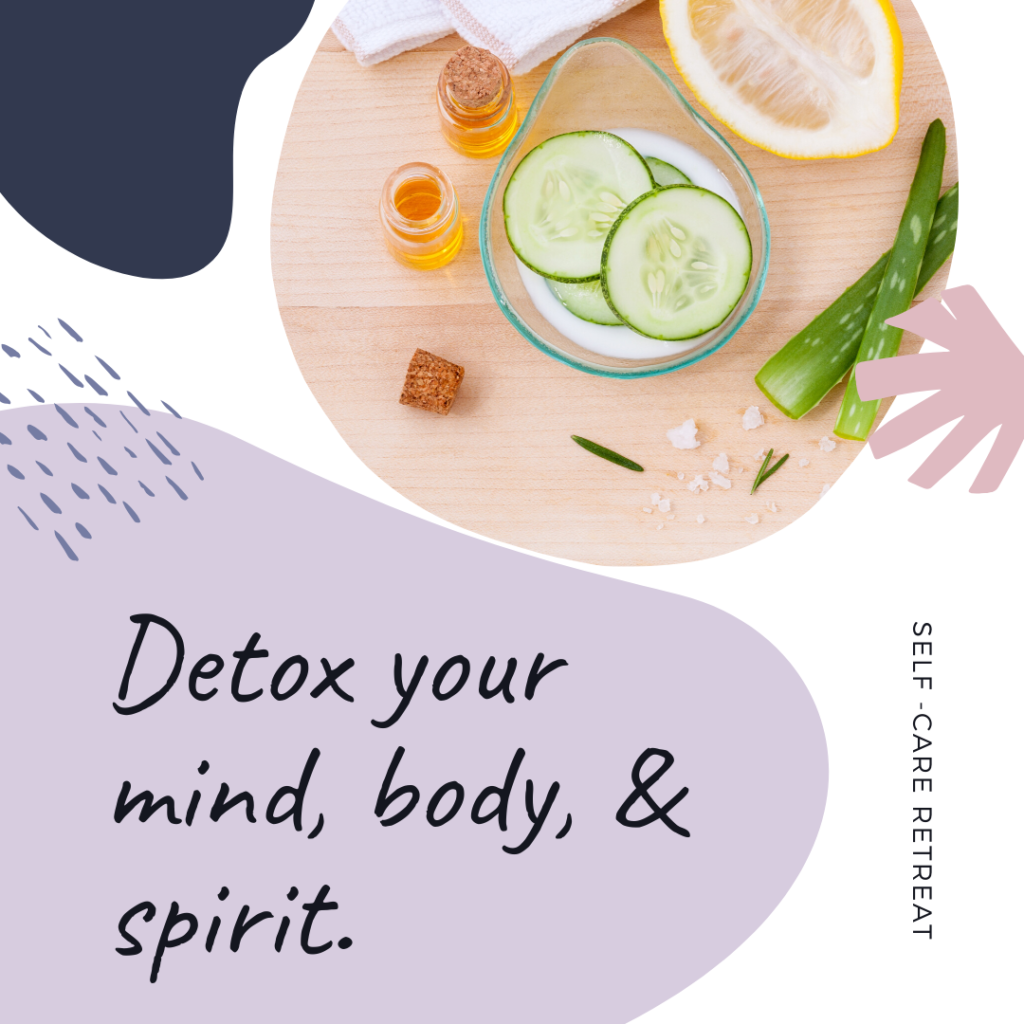 LOGISTICS:
Lodging is not included. Call or book online directly with Mercey Hot Springs (831) 693-4430.
Come with friends or come on your own – everyone is welcome!
Wellness Retreat Guests can arrive as early as check-in time on Friday 3/27 at 1:00pm. Retreat will officially begin at 5:00pm to accommodate travel and work schedules.
All food will be provided. Meals can accommodate vegetarians, gluten-free, dairy-free, and paleo. Please inform us of any dietary restrictions.
Cost: $300 per person, (lodging is separate).
Registration closes on March 20, 2020.
Cancellation Policy:

Cancel by March 20, 2020 at midnight for a full refund.
Cancel by March 25, 2020 at midnight for a 50% refund.
After March 25, 2020, there will be no refunds.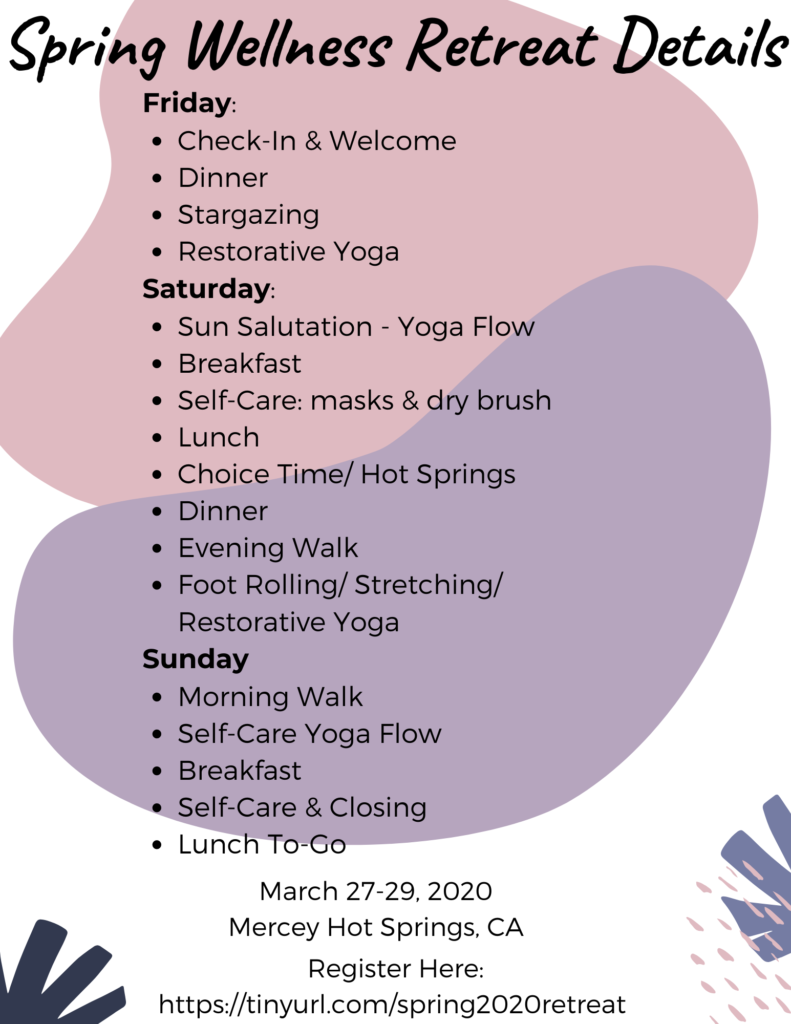 Retreat Timeline
Friday 1:00pm
Guests can arrive as early as 1:00 pm, lodging will be available for check in at 3:00 pm. Free time for exploring, soaking, reading, napping.
Friday 5:00pm
Welcome and overview of the weekend goals, getting to know one another, intention setting, and appetizers.
Friday 6:00pm
Dinner
Friday 8:00pm
Legs up the wall, breath work, star gazing
Friday 9:00pm
Quiet Hours
Saturday
7:00am
Optional morning walk
Saturday
8:00am
Gentle Morning Flow & Stretching
Saturday 9:00am
Breakfast
Saturday 10:00am
Self-Care: Dry brushing demo & clay mask making
Saturday 11:00am
Choice Time – journaling, group time, walking
Saturday 1:00pm
Lunch
Saturday 2:00pm
Silent Choice Time – read, nap, soak, swim, steam
Saturday 5:00pm
Group Cooking: Spring Seasonal Foods
Saturday 6:00pm
Dinner
Saturday 7:00pm
Sunset walk
Saturday
8:00pm
Legs up the wall & roll out feet
Saturday 9:00pm
Star gazing & Relaxing by the Fire Pit
Sunday
7:00am
Sunrise walk
Sunday 8:00am
Self-care gentle yoga flow
Sunday 9:00am
Breakfast
Sunday
9:30am
Wrap-Up, Closure, Lunch To-Go
Sunday
11:00am
Check-Out & Choice Time until 2:00
What to Expect…
Mercey Hot Springs is located in the middle of nowhere, the nearest town (Los Banos to the north and Paicnes to the east) is about 45 minutes away, and is an off the grid resort that offers access to geothermally-heated hot springs.
Once you arrive, pull into the guest parking spots and follow the signs to the office, where you can check-in. If you arrive earlier on Friday afternoon, feel free to check into your accomodations and enjoy the hot springs.
Prepare your family and friends for a slower phone response time, as there's no cell reception at the resort. The resort landline is (831) 693-4430 and there is wifi available at the office, so texts will be more reliable than phone calls.
Mercey Hot Springs Resort values maintaining a quiet and peaceful atmosphere by creating quiet spaces and quiet hours. Please review their resort guidelines before your arrival https://www.merceyhotsprings.com/guidelines/.
Food and drinks… we will provide everything you might need from Friday late afternoon through Sunday lunch. 
What about alcohol? Alcohol is not permitted in the tub, pool, or sauna areas, but is permitted in other resort areas. However, while on retreat, we encourage guests to skip the alcohol to support the liver through good food, rest, gentle yoga, and long hot spring soaks.
How to Get there:
Sarah's preferred route from the South Bay…
Take HWY 101 south to HWY 25 into Hollister. Continue on HWY 25 towards the Pinnacles into the town of Paicines. Go left on Panoche Road (J1) for approximately 28 miles. Go left on Little Panoche Road (staying on J1) for 8 miles.
Google directions: https://goo.gl/maps/bmf85JoX9tTYiBxV8
What to Bring:
Book/Kindle
Flashlight
Flip-flops
Hat
Sun block
Sunglasses
Swimwear
Swim cover-up/robe
Toiletries
Towel
Water bottle
Yoga mat
Comfortable clothes for yoga and hiking, PJs, warm layers
Walking shoes
Meet Your Wellness Retreat Facilitators (from left to right)
Pam is an Institute for Integrative Nutrition Graduate of The Whole Mind*Body Lab's 180/360 Program Coach. The 180/360 Program is an integrative approach that recognizes the bio-individuality of the participant, and helps each participant, through a 12-week program of guided explorations, self-observation, and simple evaluation tools, to discover their unique, best path toward optimal health and happiness.
Sarah Piramoon
Sarah first discovered yoga in 2008, when she was surprised by the joy and delight she felt during a challenging vinyasa class led by Jennifer Prugh. Her love for vinyasa continued on, however she really deepened her yoga practice after becoming a mother and struggling through injuries. Her physical hardships, including healing a diastasis recti and mending a broken wrist, were the ultimate teachers, pushing her to find new ways to practice that included more self-care and biomechanical awareness (on and off the mat). She studied under Kent Bond and completed the Willow Glen Yoga 200-hour Teacher Training in 2019. Sarah aims to create a fun, playful, and inclusive class environment where students are encouraged to practice with curiosity and kindness. Off the mat, Sarah is an ecologist, lover of the outdoors, and Katy Bowman enthusiast, who enjoys camping, body surfing, and paddleboarding. She lives in the Bay Area, California, with her husband and two children.
Katie Leadbetter
Katie is holistic Nutrition Consultant and Certified 21-Day Sugar Detox Coach who specializes in helping folks find health through nourishing foods, lifestyle behaviors, safer skincare, and reducing toxins. By day, she is an Elementary Math Coach, having taught in the classroom for 8 years, she now supports teachers and works on Math Intervention. As a private Nutrition Consultant, she is focused on working one-on-one with clients to improve their digestion and balance their blood sugar through diet analysis, cooking and shopping instruction, and individualized dietary and nutrient recommendations. Katie has been following a paleo diet and has been gluten-free since 2012. She practices yoga, hikes, and cycles. She is also a Breast Cancer survivor and has an immune deficiency called Common Variable Immune Deficiency (CVID). She and her husband, Jim, live in Santa Clara, CA, with their dogs Jax and Molly.