Apple season reminds me of my grandparents. I spent countless hours baking apple crisps with my Grandmother (actually I was probably just eating the crisp topping, but she still let me bake with her anyway) and making apple cider with my Grandfather's MacGyver-style apple cider juice press. I also spent a large part of my childhood in their backyard under the apple tree. Apples hold a very special place in my heart. In case you'd like to learn more about Apples, check out this post about apples or this post. 
This recipe is inspired by the crisps I made with my grandmother, but uses gluten-free oats, coconut sugar (a lower-glycemic sugar than cane sugar), and grass-fed butter.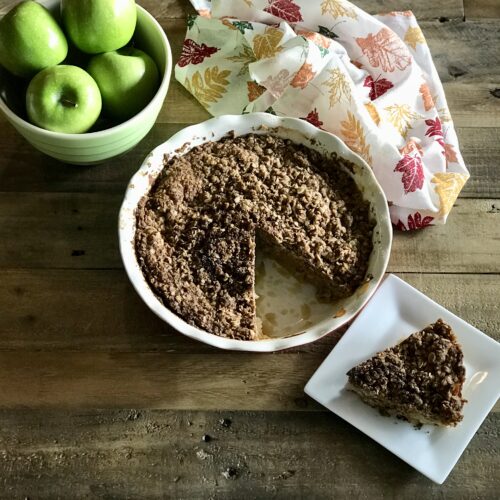 Apple Crisp
I made countless apple crisps with my grandmother as a child and so this recipe holds a special place in my heart. I've made a few upgrades to this recipe to make it a wee bit healthier, but I'm sure you'll love it just the same.
Ingredients
1¼

cups

gluten free oats

¾

cup

coconut sugar

½

cup

gluten-free flour

¼

tsp

sea salt

½

tsp

ground cinnamon

½

tsp

ground nutmeg

1

cup

grass-fed butter

room temperature

6

cups

apples

cored, peeled, sliced
Instructions
NOTE: To peel, core, and slice the apples. I really like using an "apple peeler-corer-slicer". I have the one from Pampered Chef.

Preheat oven to 350° F. Add the apples to a 9" pie pan. 

Add the dry ingredients to a medium bowl. Add slices of butter to the bowl and cream the butter and dry ingredients until well incorporated. 

Spread the crisp topping over the apples. Cover with aluminum foil to prevent burning.

Bake for 35 minutes and then remove the aluminum foil. Bake for an additional 20-25 minutes or until apple juices start bubbling at surface and knife inserts easily into apples.