What is Love Your Liver Tea?
After creating Immuni-Tea Love and really enjoying playing around with medicinal herbs, I realized why not add another medicinal tea blend to CEWK suite of teas. Since I already regularly drink liver supportive teas, why not make my own? And with that I began looking through my nutrition school notes and my herbal books to select herbs that I wanted to try for my blend.
Just like Immuni-Tea Love, Love Your Liver Tea is made with USDA certified organic herbs and is Fair for Life Certified.
Why did I choose these herbs?
Just like with the Immuni-Tea Love blend, the herbs were chosen for two primary reasons, 1) for their medicinal purposes and 2) for the taste. I set out to create a tea that tastes great and is supportive for the liver. As the liver is an organ that plays a role in digestion, many of the herbs chosen here also support the digestive organs.
Peppermint Leaf: primarily a digestive aid that can relieve nausea and gas, as well as cramping and spasms.
Licorice Root: anti-viral and anti-toxin, reduces inflammation and can help lower liver enzyme levels
Dandelion Leaf: has a stimulating and decongesting effect on the liver
Orange Peel: anti-microbial, supports liver detoxification
Burdock Root: a cooling herb that is great for liver support and a digestive aid
A note about Licorice Root: a key constituent of licorice root can impact sodium and potassium levels. If you have history of high blood pressure, water retention, heart palpitations or other signs of heart/kidney stress, you should use licorice root under the guidance of a qualified health-care provider.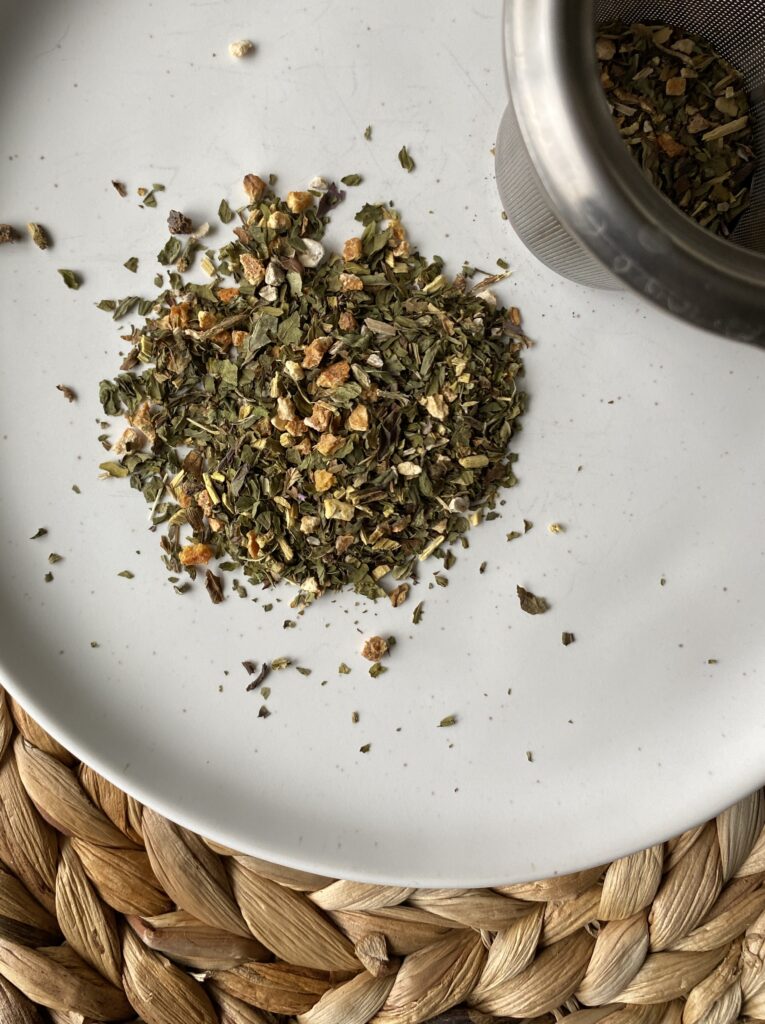 Love Your Liver Tea FAQ:
Here are the answers to the questions I am frequently getting:

Q: Is Love Your Liver Tea organic?
A: Yes, all of the herbs are USDA Certified Organic. 
Q: Is Love Your Liver Tea Fair Trade?
A: Yes, the herbal distributor is Fair for Life certified.
Q: How many servings are in one bag?
A: There are two cups in each bag. I suggest brewing 1 tbsp. which will give you 32 servings. If you do a second brew, which I recommend, you'll get 64 cups of tea.
Q: Is the packaging made from plastic?
A: No. This poly-lined bag is actually made from plant polymers, so it is 100% compostable.
Q: Where do you ship?
A: Currently, we are shipping to the Continental United States only. But we hope to ship to more places soon.
Q: Is there a discount for purchases of multiple bags of Love Your Liver Tea?
A: Yes! $1 off per bag of orders of two or more bags. 
Q: Can I purchase a one of each Love Your Liver Tea AND Immuni-Tea Love?
A: Yes! There are links below with a $1 off per bag discount.
To Purchase Via PayPal
To Purchase (via PayPal):
Love Your Liver Tea costs $20 shipped (continental United States only) and $14 for local pick up (Austin Texas area). See headers for the options to purchase different quantities.
If you don't have PayPal, I also have Venmo @cleaneatingwithkatie. In the notes section please include the shipping address and any other important information.
Love Your Liver Tea – Shipped – $20
Love Your Liver Tea – TWO BAGS – Shipped (same address) – $33
Love Your Liver Tea – THREE BAGS – Shipped (same address) – $47
Love Your Liver Tea – Local Pick-Up – $14
Love Your Liver Tea – TWO BAGS – Local Pick-Up – $26
Love Your Liver Tea – THREE BAGS – Local Pick Up – $39
Better Together!
Immuni-Tea Love & Love Your Liver Tea – One of each – Shipped – $31
Immuni-Tea Love & Love Your Liver Tea – One of each – Local Pick Up – $24