Butter lettuce is another favorite of mine. I appreciate that it has a mild flavor and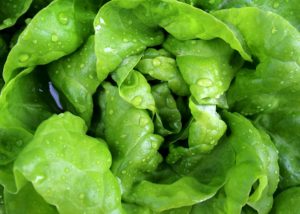 is a healthier alternative to iceberg lettuce. While working for Tomatero Organic Farm, it was a very popular item. Jennifer Tyler Lee recommends Chinese chicken lettuce wraps and of course, salad. Like Jennifer, I use butter lettuce in salads and in lettuce wraps. I think this is a great gateway lettuce for those that like iceberg lettuce in their salads (as I used to as a kid and teenager). It's mild with a nice texture and can hopefully get people to start liking more nutrient dense and flavorful greens in their salads.
This type of lettuce is has a delicate texture and a slightly sweet flavor.
Common varieties include Boston and Bibb.
The darker the leaves, the more nutrients due to higher photosynthesis activity, and therefore higher phytonutrient values.
Additionally, the less tightly packed leaves on a head of lettuce, the more phytonutrients it has (i.e. iceberg has very tightly packed leaves, whereas loose leaf lettuces are not tightly packed at all). Lettuce leaves need sunlight to grow but the UV rays can also damage them. In order to survive, plants make "sunscreen" in the form of antioxidants. Those antioxidants make the plant more nutrient dense and that plant protection then becomes our own protection when we eat them.
The inner leaves on the lettuce head are exposed to very little sunlight and therefore are very low in nutrients; as a result, the outer leaves are exposed to the most sunlight and are higher in nutrients.
Precut lettuces (like in pre-made salads) start loosing their antioxidant values as soon as they are cut.
Lettuce all are a good source of chlorophyll and vitamin K.
Moisture on lettuce leaves cause them to prematurely degrade, opt for a salad spinner to rinse and dry lettuce. This can help the lettuce to last several days.
From The 52 New Foods Challenge: A Family Cooking Adventure for Each Week of the Year, with 150 Recipes
by Jennifer Tyler Lee, Eating on the Wild Side: The Missing Link to Optimum Health
by Jo Robinson, and Encyclopedia of Healing Foods
by Michael Murray, Joseph Pizzorno, and Lara Pizzorno.