Food of the Week: Sweet Potatoes
I love sweet potatoes, but I haven't alway loved them. I remember the first sweet potato French fry that I had back in 2003 in Monterey. I hated them. Now, I could each them nearly every day. One of my favorite recipes for sweet potatoes is for savory sweet potato cakes from Mediterranean Paleo Cooking
. This is a great recipe. We usually just bake them and add plenty of Kerrygold butter (grass-fed). Jennifer Tyler Lee recommends mashed sweet potatoes or crispy sweet potato fries. Yum!
Food Facts: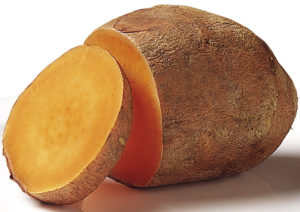 Sweet potatoes belong to the morning glory family and are not at all related to potatoes (nightshade family).
They are native to Central America/northern South America. Colobus brought sweet potatoes back to Spain with him, but those original sweet potatoes were similar to carrots, not like our modern sweet potatoes.
Their glycemic index is 45 (sugar is 100). The glycemic index of potatoes by comparison is 75-100. The glycemic index is a measurement of how much a food raises the blood sugar.
They are rich source of antioxidants, especially the carotenes.
In the supermarket, most yams are simply marked as yams, but are truly just another variety of sweet potatoes. True yams are hardly ever sold in the United States.
If you're looking to grow a very nutrient dense variety of sweet potato, opt for the Carolina Ruby.
Do not store uncooked sweet potatoes in the fridge.
Boiling sweet potatoes reduces their antioxidant value, while steaming, roasting, or baking does not.
The skin is more nutritious than the flesh.
Good source of vitamins C, B2, B6, and manganese, copper, biotin, and pantothenic acid.
Good source of fiber.
In animal studies, they have been shown to help stabilize blood sugar levels.
From: The 52 New Foods Challenge
by Jennifer Tyler Lee, Encyclopedia of Healing Foods
by Michael Murray, Joseph Pizzorno, and Lara Pizzorno, and Eating on the Wild Side
by Jo Robinson.