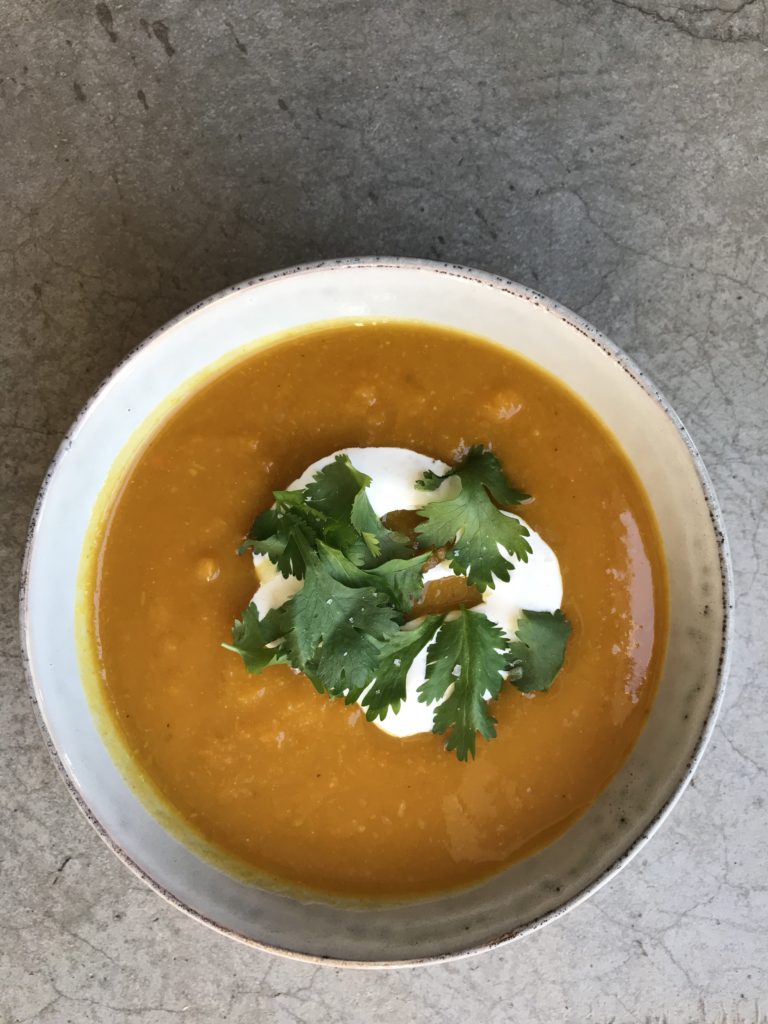 Butternut squash soup is something that I could eat nearly everyday during the winter months. Hearty, filling, healthy, and delicious. I found a recipe for it about 5 years ago, and since then, I've tweaked it to make it my own. I found the act of peeling the butternut squash simply ridiculous. It is insanely hard to peel a raw butternut squash. Then, while in Miami, a friend ordered some butternut squash at a restaurant and it arrived roasted with the skin on. MIND BLOWN. I decided then to stop peeling the squash for these three reasons. 1) It's way too hard, 2) I'm going to puree the soup with an immersion blender anyways, and 3) the skin is where the nutrients are! So here is my favorite recipe for butternut squash soup. Enjoy!
Butternut Squash Soup [21DSD, Paleo, Vegetarian, Primal]

Recipe:
1 large butternut squash, seeded and chopped
6 ribs of celery, chopped
6 carrots, chopped
1 medium onion, chopped
2 cloves garlic, coarsely chopped
2 cups water
2 T butter
2 cups bone broth (or veggie broth)
1 T cumin
1 T coriander
1 T turmeric
1 T paprika
1 T garlic salt
1 t pepper
2 T coconut sugar (optional)
2 lemons, juiced
Optional: Raw sour cream (or raw plain yogurt), for serving
Optional: Cilantro, for serving
Directions:
Place a vegetable steamer in a large stock pot. Add water, butter, and butternut squash. Steam the butternut squash until pierced easily with a knife.
Once steamed, place squash in stock pot (leave water in pot). Add carrots, celery, onions, and garlic. Add broth and bring to a boil. Reduce heat to a simmer.
Add cumin and the next six ingredients. Keep at simmer for about 30 minutes. Remove from heat, and allow to cool for about 15 minutes.
Use an immersion blender to purée soup (regular blender or food processor will also work).

Add lemon juice. Serve with a dollop of sour cream or plain yogurt and garnish with cilantro. Makes about 8 servings.
Onions are a good source of vitamins C and B6, potassium, and manganese. They are also rich in antioxidants, particularly quercetin, kaempferol, and myricetin, which all play a role in cancer prevention. Onions also help to reduce the risk of cardiovascular disease and osteoporosis.
Carrots are good sources of vitamins A, C, B6 & K, biotin, potassium, thiamine, and fiber. They are also rich in antioxidants and good source of starchy carbohydrates.
Butternut Squash is a good source of antioxidant carotenoids, vitamins C, B1, B6, folic acid, and pantothenic acid. It is also a good source of potassium, manganese, and fiber. Dark-fleshed winter squash is shown to be protective against cancer, especially lung cancer, heart disease, and and type II diabetes.
Sources:
Murray, M., Pizzorno, J., & Pizzorno, L. (2005). Encyclopedia of Healing Foods

New York, NY: Atria Books.
Reinhard, T (2014). Superfoods: The Healthiest Foods on the Planet

Buffalo, NY: Firefly Books.