Nachos have been my favorite food since I was about 12. They always seemed like a perfect food. Fat, protein, carbohydrates – they have it all. That is until I learned about how bad vegetable oils are. Not sure what I'm talking about? My post on fats should help to clear things up. Anywho, I got real ambitious one day and decided to make plantain nachos from scratch. If you aren't up for that, there are some "clean" plantain chips available out there. You can also use Siete chips if you want to keep it paleo.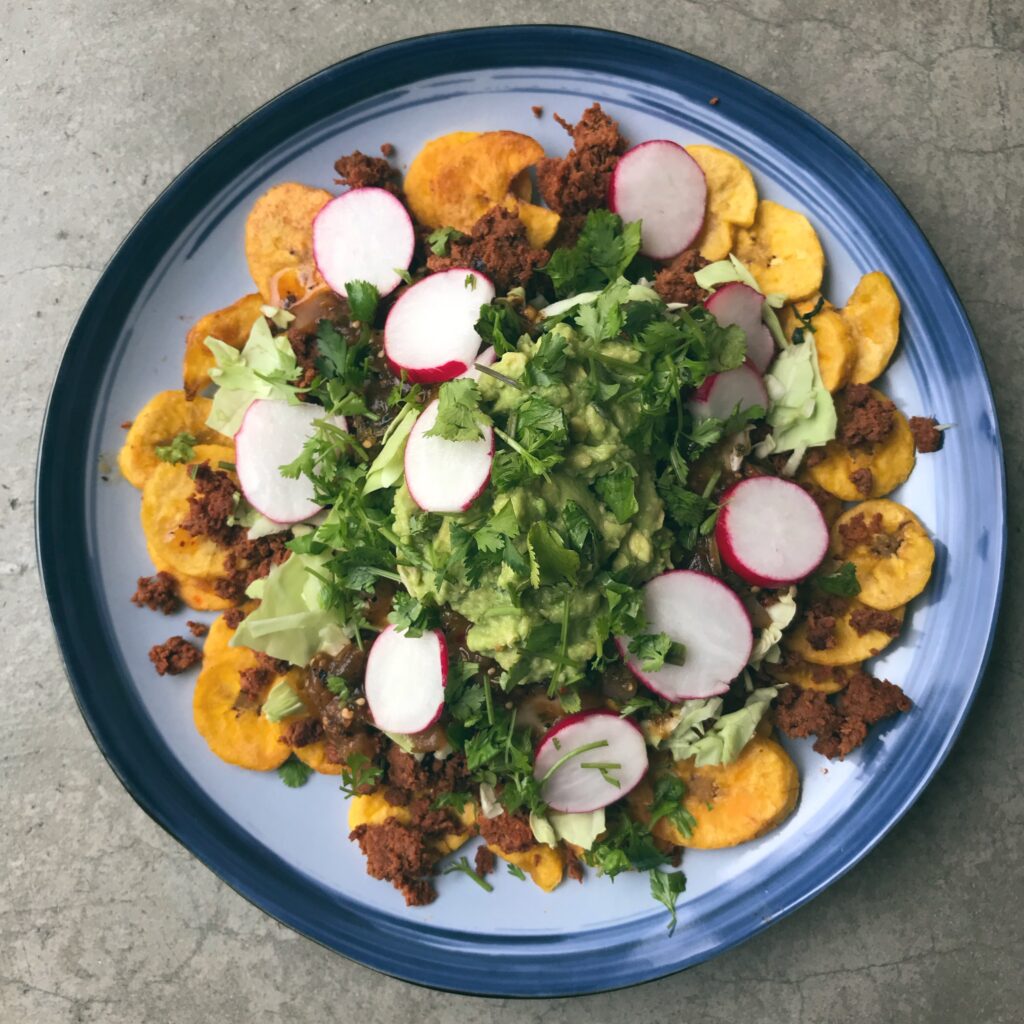 Paleo Plantain Nachos
Nachos are an ultimate comfort food for me, but if I eat them now, I feel very uncomfortable. So having a clean version of Nachos comes in super handy!
Ingredients
Plantains
2

green plantains

¼

cup

cooking fat

coconut oil, ghee, or bacon fat

2

tsp

sea salt
Guacamole
1

lime, juiced

2

avocados

1

tsp

garlic sea salt

½

tsp

chili powder
Remaining Nacho Ingredients
1

lb

ground meat

beef, turkey, chorizo, chicken, or pork

1

tbsp

cooking fat

2

tbsp

taco seasoning

1

cup

shredded cabbage

1

bunch

radishes

thinly sliced

½

cup

cilantro, chiffonade

Cotija cheese

optional (not pictured)
Instructions
Plantains
Peel and thinly slice the plantains about one-quarter inch thick.

Add the cooking fat to a large saute pan deep enough to fry the plantains. Heat fat over med-high heat.

Add plantains in a single layer and cook in batches. Cook for 3-5 minutes per side until golden brown. Flip using tongs and brown on the other side.

As you remove the plantains, place them on a paper towel lined plate and sprinkle with a wee bit of sea salt.
Guacamole
Add avocado flesh to a bowl along with lime juice and spices. Add a couple of pinches of the cilantro that is being used for garnish. Mash until you achieve the desired consistency. Set aside.
Remaining Nacho Directions:
Add the cooking fat to a large skillet and add the meat and begin to brown over med-high heat. Add taco seasoning and continue cooking.

On each plate, layer ¼ of the following ingredients: plantains, meat, cabbage, guacamole, cilantro, and radishes. If using Cotija, crumble on top and serve.