Asian Style Turkey Lettuce Wraps [Paleo, Primal, GF]
Ever since going paleo a few years ago, we've been trying to expand our repertoire of recipes. A colleague suggested lettuce wraps and boom this recipe was born. It's been tweaked over the years, but here it is in its latest form.
Recipe: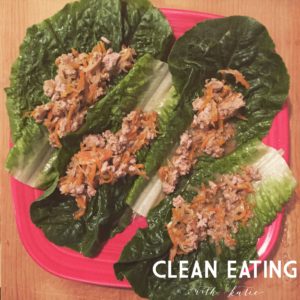 1 lb. ground turkey (I prefer the higher fat content over the lean version)
5 medium carrots, tops trimmed
4 stalks of celery, tops and ends trimmed
1 medium yellow onion, peeled and quartered
10-12 romaine lettuce leaves, washed and trimmed
2 T Rendered Duck Fat or Ghee
2 T Coconut Aminos or Gluten Free Tamari (if you can have soy)
2 T Coconut Vinegar or rice vinegar (if you can have rice, I prefer this one)
1 T fresh ginger, grated
2 cloves of garlic, minced
1 T sesame seeds
1 T sesame oil
Directions:
1.) Melt the duck fat or ghee in a skillet over medium heat. 2.) Brown the ground turkey. 3.) While the turkey is browning in the pan, grate the onion, celery, and carrots in a food processor, using the grater blade. 4.) Once turkey is nearly all browned, add the coconut aminos, vinegar, ginger, garlic, sesame seeds and oil. Mix to combine. 5.) Add the grated vegetables and bring to a simmer until veggies are cooked. 6.) Place ground turkey mixture on the romaine lettuce leaves and enjoy!
Makes about 4 servings.
Onions are a good source of vitamins C and B6, potassium, and manganese. They are also rich in antioxidants, particularly quercetin, kaempferol, and myricetin, which all play a role in cancer prevention. Onions also help to reduce the risk of cardiovascular disease and osteoporosis. Quercetin plays a large role in healing the gut.
Carrots are good sources of vitamins A, C, B6 & K, biotin, potassium, thiamine (B1), and fiber. They are also rich in antioxidants and good source of starchy carbohydrates.
Turkey is rich in glutamine, which is an important amino acid for healing the small intestines of those with leaky gut. It is also rich in vitamins B6 and B12, protein, niacin, phosphorous, selenium, zinc, pantothenic acid, riboflavin, iron, potassium, and magnesium.
Ginger has long been used for gastrointestinal problems, making this an ideal food for those with leaky gut and other GI troubles. It relaxes and soothes the intestines and promotes the elimination of gas. It is also anti-inflammatory. Always choose fresh over dried, as it has higher levels of ginger's active protease.
Nutrition Facts for one serving (this recipe yields about 4 servings)
Sources:
Murray, M., Pizzorno, J., & Pizzorno, L. (2005). The Encyclopedia of Healing Foods. New York, NY: Atria Books.
Reinhard, T. (2014). Super Foods: The Healthiest Foods on the Planet. Buffalo, NY: Firefly Books.
Robinson, J. (2013). Eating On the Wild Side. New York, NY: Little, Brown and Company.