February's Clean Eating Book of the Month is Grain Brain: The Surprising Truth about Wheat, Carbs, and Sugar–Your Brain's Silent Killers
by David Perlmutter. Amazing book! I give this book 5 out of 5 strawberries!
Dr. Perlmutter, author of Grain Brain, is a neurologist. Most people probably think, "what does being a neurologist have to do with writing a book about diet?". Well, just as we don't live in a bubble, our bodies' organs don't exist in isolation. What we put in our bodies have an impact on how our organs function. Dr. Permutter reviews cutting edge science to demonstrate that diet does play a significant role in the health of our brain and our entire neurological system.
"Gluten is our generation's tobacco." This quote resonates with me because I have "heard it" all from well meaning family and friends as to why "everything in moderation" should be the mantra by which we live our lives. It also resonates with me because of the backlash the "gluten free" movement has gotten. Further, I can see so many parallels of doctors that once recommended cigarettes for "stress" and are now recommending "healthy whole grains" as a part of a "balanced diet".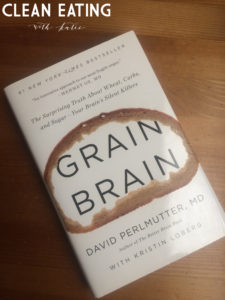 Through years and years of work with patients, Dr. Perlmutter has seen Alzheimer's disease destroy many lives. He notes that chronic inflammation is at the root of the disease and that chronically high blood sugar is the main source of the inflammation. In Grain Brain, he calls Alzheimer's disease Type III Diabetes for this reason.
In addition to his work with Alzheimer's patients, he treats many patients with ADHD, Autism, MS, and more. Going grain free and refined sugar free is of great help to all of his patients.
This book is amazing and life changing. If you aren't already gluten free, or if you are gluten free, Grain Brain restates the multitude of reasons why avoiding gluten is the way to go for a healthy body.
Want to know what else I'm loving (not loving)?? Let's connect on Goodreads!