Happy March!
March is one of my favorite months because SPRING officially begins and because my birthday is in March. 🙂 As for what's in season in Northern California in March, I wish there were fruits that were in season besides citrus fruits, but since there aren't, I'm enjoying the citrus. March is officially asparagus season in most of North America. After reading Barbara Kingsolver's Animal, Vegetable, Miracle: A Year of Food Life
 I decided that I would only be eating asparagus during the late winter and early spring.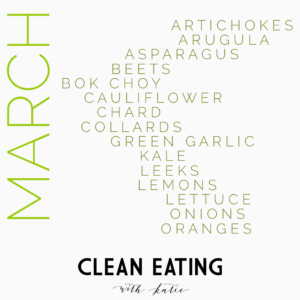 It's what I'm most excited for this month! Bring on the stinky pee!! What seasonal produce are you going to enjoy in March?
Hugs and Health <3,
Katie