The Clean Eating August 2014 Book of the Month is Eating on the Wild Side: The Missing Link to Optimum Health
by Jo Robinson. I give this book FIVE strawberries- an absolutely fascinating book.
Robinson examines the varieties of foods to determine which foods and which varieties are the healthiest. She also looks at the healthiest methods for preparation and when certain food need to be prepared in order to obtain the most nutrients.
When I first worked at the farmer's market for Tomatero Organic Farms I remember learning about the three varieties of strawberries that we sold, Albion, Seascape, and Chandler. Each day customers would come up and ask about the berries and be shocked to learn that there was more than one type of strawberry. I would always explain that just like apples, all produce has multiple varieties. However, when we shop at the grocery store they generally only have one type of variety. The varieties that are chosen for grocery stores are varieties that ship and travel well, last a fairly long time, and that look appealing to customers. You might think that all produce should look appealing, and I agree, but let me give you one example. The Rosas variety of strawberry (another variety that Tomatero has sold over the years) is a pink berry. Most customers think it is underripe because it is pink, but that isn't the case, that is just the characteristics of that variety type. That is just one example of how certain produce doesn't fit our "standards" of looking appealing. [These are my very favorite Strawberry variety, by the way. If you find them, I highly recommend that you try them.]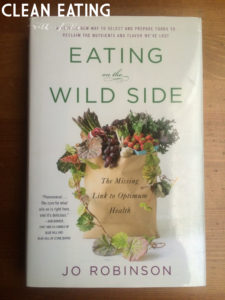 In Eating on the Wild Side, You'll learn that sweet potatoes aren't in the potato (nightshade) family but in the morning glory family, that drinking a glass of beet juice before a run will help you run longer (due to the naturally occurring nitrates), that the outer leaves on lettuces are the most healthy because they make the most chlorophyll, and that broccoli loses most of it's phytonutrients within 24-hours of harvest – so grow your own or shop at the farmer's market and look for it on ice.
There's about million more gems like these in the book, so take a look for yourself and learn how to eat on the wild side.
Want to know what else I'm loving (not loving)?? Let's connect on Goodreads!
Hugs & Health <3,
Katie