I've been LOVING delicata squash lately and I've been seeing people get really creative with how they use it. The more creative they get, the more inspired I get. I decided to try out a simple stuffed delicata squash recipe and when it turned out pretty good, I knew I wanted to step up my game. Here is the result.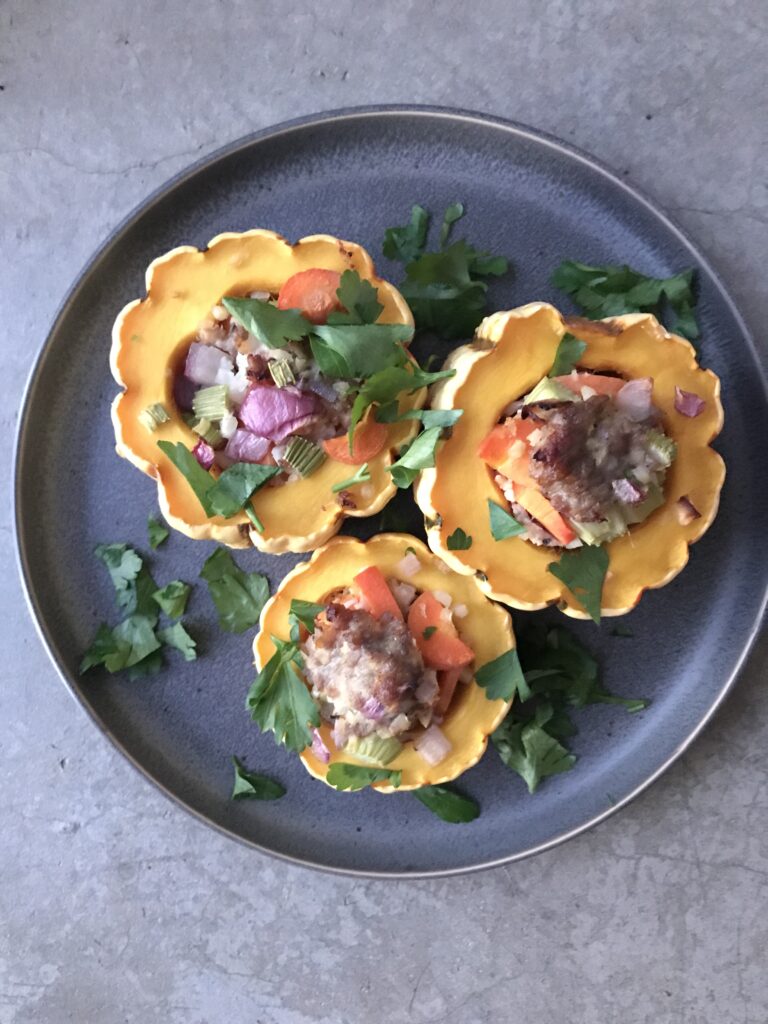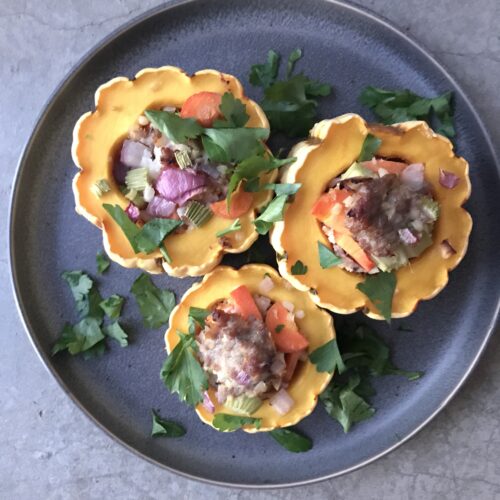 Stuffed Delicata Squash
Delicata squash is a new favorite of mine because the skin is edible when roasted meaning there's no need to peel it! Stuffing it with meat and veggies makes for the perfect hearty and filling fall and winter dish.
Ingredients
4

delicata squash

choose larger ones that will be easier to stuff

1

lb

pasture raised ground pork

(other ground meats will also work)

½

med

red onion

diced

2

med

carrots

sliced

3

celery stalks

sliced

1

12 oz

bag of riced cauliflower

fresh or frozen

1

tsp

coconut oil
Spice Blend Ingredients
1

tsp

sea salt

½

tsp

fresh ground pepper

1

tsp

dried oregano

½

tsp

dried thyme

½

tsp

dried parsley

½

tsp

granulated garlic

½

tsp

granulated onion

2

tbsp

parsley chiffonade

optional garnish
Instructions
Pre-heat oven to 350° F and coat a rimmed baking sheet with coconut oil. 

Slice the delicata squash into 2 inch rounds and scoop out the seeds. Place on the coconut oil coated baking sheet and put in the oven to par-bake for 10 minutes. 

While the squash is par-baking, combine the ground pork, riced cauliflower, celery, onions, and carrots in a large bowl. Mix in the spices and stir well.

After 10 minutes, take the par-baked delicata squash out of the oven. Being careful of the hot baking sheet and the hot squash, carefully spoon the pork and veggie mixture into the delicata squash rounds until over stuffed.

Continue baking for 25 minutes. When the meat is cooked through and the squash pierces easily with a knife, remove from oven. Allow to cool for 10 minutes before serving. 

Sprinkle with parsley chiffonade and serve.