Green Beans have been my LEGIT top three favorite vegetables since I was a wee one. I LIVE for green bean season. And the green beans pictured here come from my mama's garden (go mama!). And now that summer is here, green beans and cherry tomatoes are in abundance so this is the perfect time to make this recipe.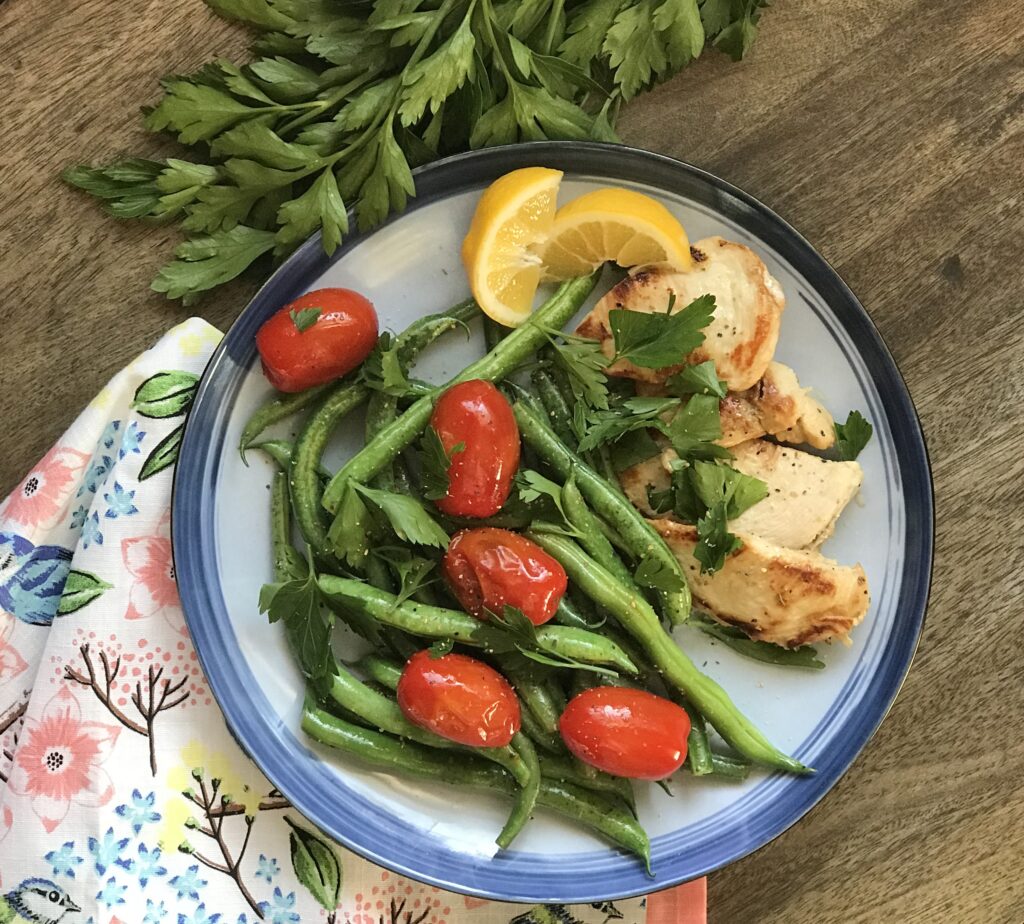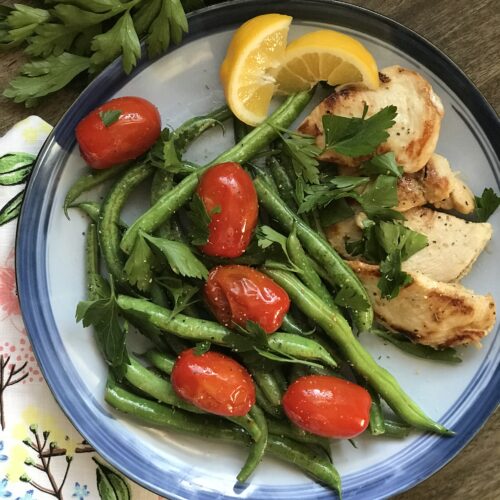 Lemon Chicken with Sautéed Green Beans and Blistered Cherry Tomatoes
This is the perfect recipe that highlights seasonal summer veggies.
Ingredients
Chicken Marinade
2

med.

lemons, juiced

½

cup

extra-virgin olive oil

1

tbsp

lemon pepper

Simply Organic

1

tbsp

garlic sea salt

Simply Organic
Ingredients
2

lbs

boneless skinless chicken breasts

organic, pasture-raised

1

lb

green beans

trimmed

1

basket

cherry tomatoes

2

tbsp

parsley chiffonade

6

tbsp

grass-fed ghee

Fourth & Heart is my fave

1

lemon, juiced

1

tsp

lemon pepper

1

tsp

garlic sea salt
Instructions
Rinse the chicken and pat dry. On a cutting board, firmly push down on the chicken breast with the palm of your hand. Using a sharp knife in your other hand, fillet the breast by cutting into the breast with the knife moving horizontally through breast. Once filleted, cut in half. 

Add chicken to a large bowl and add the marinade. Mix to ensure all chicken is coated. Marinate for 4-6 hours in the refrigerator. 

After chicken has been marinated, add 3 tablespoons ghee to a large skillet and heat over medium-high. Once the ghee is hot, add the chicken pieces to the pan. Cook about 5-7 minutes until the underside has turned white and it is almost cooked through. Chicken should be browning on the underside. Turn over to continue cooking until chicken has cooked through. Remove from pan and continue cooking until all the chicken is cooked. 

While the chicken is cooking, melt 2 Tbsp of ghee in a medium skillet. Once the fat is hot, add the green beans, lemon pepper, garlic sea salt, and juice of 1 lemon. 

In a small sauce pan, add the remaining 1 Tbsp. of ghee and heat to just over medium heat. Add the cherry tomatoes and cook for about 5-8 minutes, allowing them to cook through and blister on the outside. 

Add chicken and green beans to plate, top with a few blistered cherry tomatoes and sprinkle with parsley and sea salt and pepper (to taste).