July's Clean Eating book of the the month: Anticancer: A New Way of Life
by David Servan-Schreiber, MD, PHD. In the wake of my Breast Cancer diagnosis in 2014, I read as many books on cancer as I could get my hands on. I'm sure I'm not alone here. Anticancer was by far my favorite.  In this *five strawberry* book, Servan-Schreib
er tells readers what they can do to help keep cancer at bay, keep it from coming back, or to surpass a not-so-optimistic prognosis.
Dr. Servan-Schreiber helps to bridge the gap between what the oncologists are telling patients and what they aren't telling patients – like what cancer patients can do to help themselves. This is what people diagnosed with a disease want desperately to hear – give them some control and power when they feel like they have no control and no power over this situation. He is an MD and a PHD and a two-time brain cancer survivor– so this isn't quackery here!
In Anticancer, Dr. Servan-Schreiber details his cancer story (or stories, I should say), studies about patients, and several main recommendations. Those recommendations are: 1) eat a diet that includes lots of plants, high-quality meats, low in sugar, low in refined carbs, and low in poor-quality fats, 2) supporting a healthy state of mind through meditation, 3) avoiding the fear hamster wheel by attending support groups, and lastly 4) getting enough exercise.
Servan-Schreiber tells readers that "[c]ancer lies dormant in all of us. Like all living organisms, our bodies are making defective cells all the time. Tha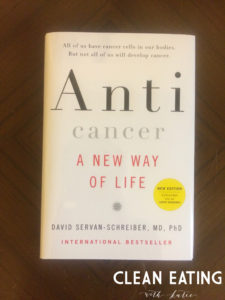 t's how tumors are born. But our bodies are also equipped with a number of mechanisms that detect and keep such cells in check." This quote instills a bit a fear in me, knowing that cancer can be happening to all of us, all the time, BUT it also inspires hope because it empowers each of us to know that we have the power to make changes in our bodies and our futures.
A great read for anyone working to avoid cancer in their lifetime, anyone with cancer, cancer survivors, or caregivers. Anticancer gives readers the feeling of some control and power in battling this disease. Highly recommended for everyone!
Want to know what else I'm loving (not loving)?? Let's connect on Goodreads!