There is a recipe for stuffed bell peppers that I have been using quite often lately, but when I can find Globe squash, basil, carrots, and tomatoes in season, it seems like perfect timing to use globe squash instead of bell peppers. If you have bell peppers on hand, use those instead.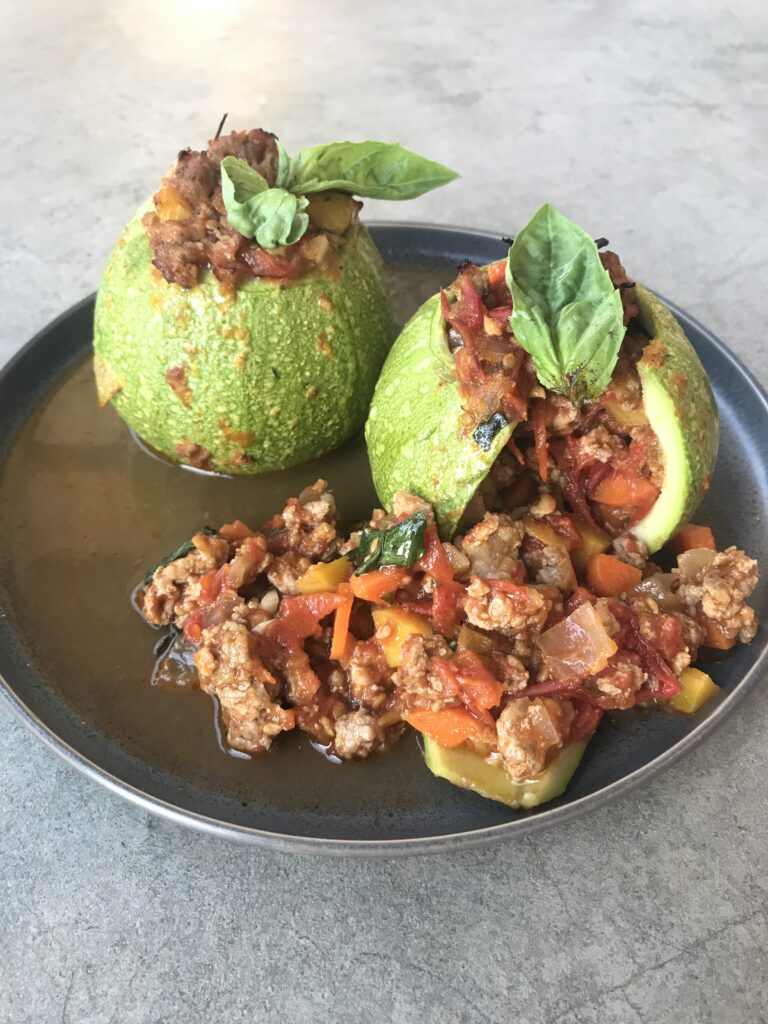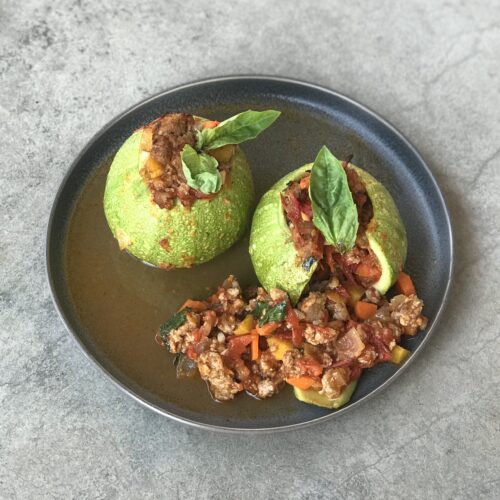 Late-Summer Stuffed Squash
This recipe is a perfect melding of late summer food flavors — all in one dish. It's one of those dishes that looks real fancy, but isn't. Serve this when you want to impress your book club or in-laws ;-).
Ingredients
Ingredients
12

globe squash

choose larger ones for stuffing

3

lbs

fresh tomatoes, stemmed and diced

or 24oz canned diced tomatoes

1

med

yellow onion

diced

3

med

carrots

diced

4

cloves

garlic

minced

1

small bunch of basil

2

lbs

pasture raised ground pork

or other ground meat of choice
Spice Blend
t

tsp

sea salt

½

tsp

fresh ground pepper

½

tsp

oregano

½

tsp

dried thyme

½

tsp

dried parsley

½

tsp

granulated garlic

½

tsp

granulated onion

2

tbsp

extra-virgin olive oil
Instructions
Add the olive oil to a large sauté pan and heat over medium. Add the onions, garlic, and tomatoes. Bring to a simmer and stir frequently. The goal is to reduce the liquid, so continue cooking over medium heat.

Add the carrots and the salt, pepper, and spice blend. Cook for about 20 minutes, continuing to stir the mixture to prevent burning.

Add the ground meat and break apart with a spatula and continue to cook until the meat is cooked through. Turn down the heat. 

Chiffonade 10-12 leaves of basil, set aside. Add the basil to the meat and veggie mixture before spooning into squash. 

While the meat is cooking, slice the stems off of the squash. Use a spoon to score a circle about 1 cm from the edge. I suggest using a cookie dough scooper (basically a small ice cream scoop) to scoop out the innards of each squash, being careful to keep the outter flesh intact.

Set the squash in a 9 x 13 in baking dish.

Spoon the meat and veggie mixture into the squash and overfill. 

Bake for 30 minutes or until a knife easily pierces the squash. Top with a sprig of basil and serve.