Chili is one of my favorite dishes. It's hearty, it's warming, it's tasty, I feel like ya just can't go wrong with chili. In my vegetarian days I made chili and the recipe easily adapted once I began eating meat and the recipe adapted once again when I started avoiding beans (due to the type of fiber in them that can irritate people with SIBO and other GI problems). Here is my current recipe, but it gets tweaked often.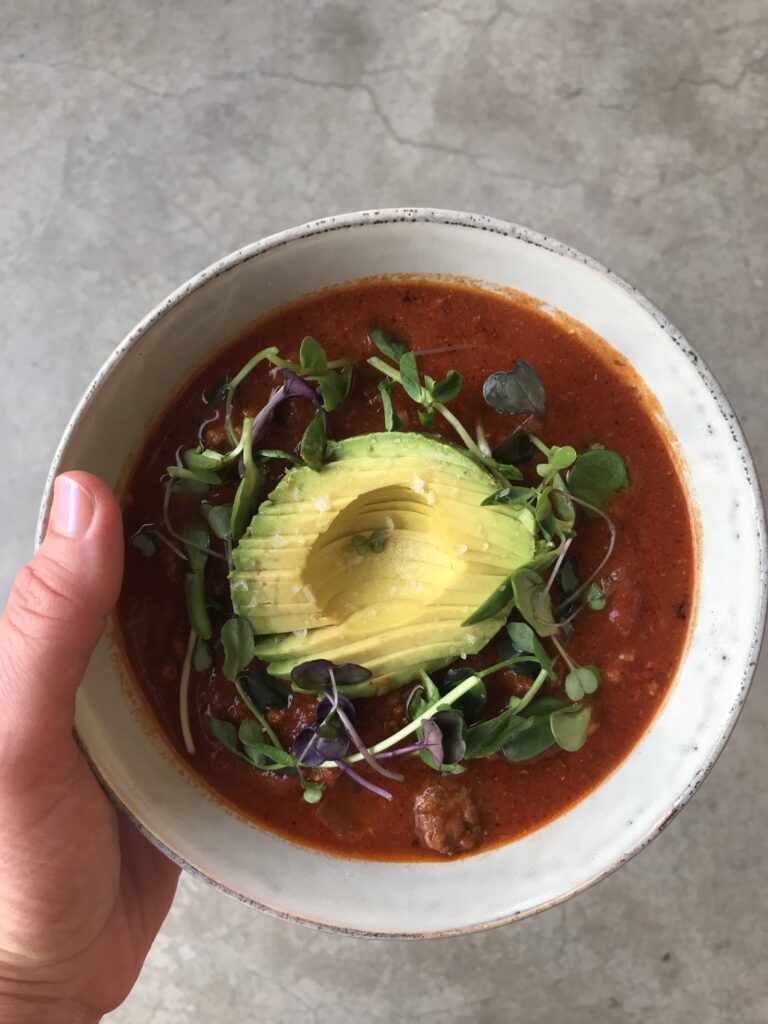 Paleo Chili
Chili tops my list of all time favorite and easy meals to make. It's honestly hard to screw it up! This recipe can be adapted to use any type of ground meat. We often use bison and it provides a great flavor. If you tolerate beans, feel free to add a can or two of kidney beans (or homemade equivalent).
Ingredients
Chili Ingredients
24

oz

bone broth

chicken, turkey, or beef

16

oz

diced tomatoes

1

med

onion

diced

4

med

carrots

diced

4

celery stalks

diced

4

cloves

garlic

diced

2

tbsp

grass-fed butter

2

lbs

ground bison

pasture-raised

2

tbsp

fresh sprouts

optional garnish

1

tbsp

grass-fed sour cream

optional garnish (per serving)

½

avocado

optional garnish (per serving)
Spice Blend
1

tbsp

coriander

1

tsp

cayenne pepper

1

tbsp

chili powder

1

tsp

cumin

sea salt

to taste

fresh ground pepper

to taste
Instructions
In a stock pot, sauté onions and garlic in butter until translucent.

Add bone broth, tomatoes, remaining veggies, spices, and bison. (If you're adding beans, add them in during this step.)

Bring to a boil and then reduce to simmer. Continue on a low simmer for 45 min.

Top with avocado, sprouts, and sour cream (if using). Serve immediately and enjoy!
Tomatoes are rich sources of vitamins C & K, carotenes (especially lycopene), biotin and fiber. They are protective against cancer and should be eaten with an oil to improve absorption.
Celery is helpful in preventing cancer, improves white blood cell activity, and helps to lower blood pressure. It is rich in potassium and sodium. It helps the liver to detoxify as well.
Onions are a member of the allium (lily) family and are related to garlic & leeks. Alliums are known to have a cholesterol reducing effect and are known for their ability to help fight off cold and flu viruses. Onions are rich in antioxidants and biotin, manganese, copper, phosphorous, potassium, vitamins B1, B6, C, and fiber.