For me, Brussel sprouts are literally THE most exciting seasonal vegetable in the fall and winter (well, tied for first with butternut squash). I remember the first time I had Brussels sprouts was in 2009. It was part of a veggie medley at a wedding and it was a WHOLE Brussel sprout. It was terrible. Who cooks them whole? About a year and a half later, I bought them at the farmers market and found a recipe that called for them to be halved and roasted with butter and bacon. Much better. Over the years I have tried many recipes and pretty much try to eat them as much as possible in the fall and winter. Here is current favorite Brussels Sprouts recipe.
I'm convinced that there are two keys to Brussels Sprouts, 1) bacon (I'm sorry if you don't eat bacon) and 2) thinly sliced or shaved. I can handle quartered, but not even halved. They are so densely packed, THIS is the key to loving them. I like using my food processor and using the slicer attachment.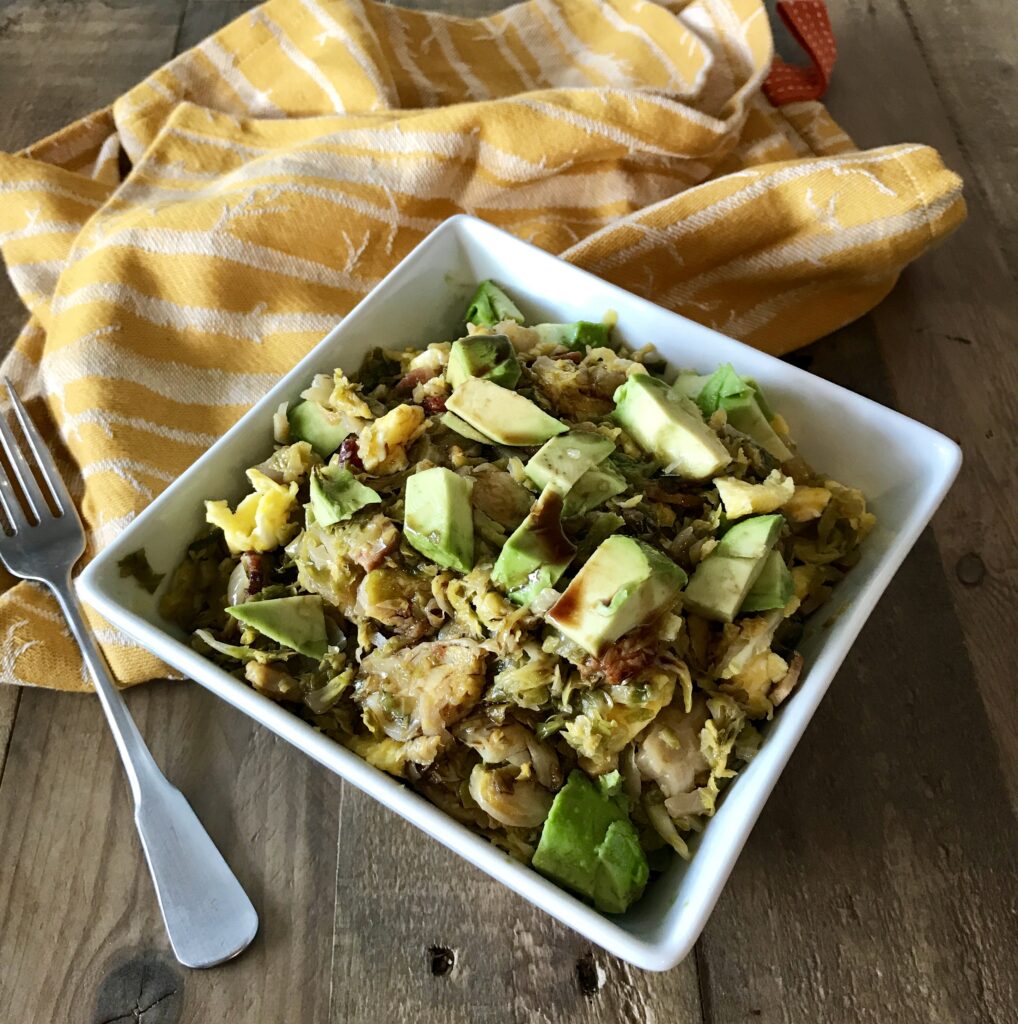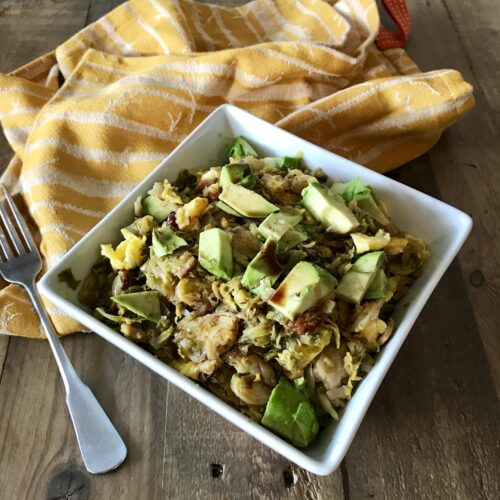 Warm Brussels Sprout Salad
This Brussels Sprouts Salad will be a crowd pleaser at your dinner table or at your next event — even if for Brussels Sprouts haters! The key is to thinly slice or grate them for even cooking, otherwise they are a mix of overdone and underdone. Blech.
Equipment
Cuisinart Food Processor (with a slicer attachment)
Ingredients
4

tbsp

cooking fat

bacon fat, ghee, butter, etc.

1

med.

onion

diced

8

slices

pasture-raised bacon

cooked and crumbled

3

eggs

pasture-raised

2-3

lbs.

brussels sprouts

trimmed and thinly sliced

1

avocado

cubed

2

tbsp

balsamic vinegar

1

tsp

sea salt

½

tsp

fresh ground pepper
Instructions
Melt 1 tbsp of cooking fat in large skillet, sauté onions until almost translucent. Remove and set aside.

Crack three eggs into a bowl and whisk. Melt 1 tbsp of cooking fat in the skillet and add the eggs. Stir the eggs until scrambled. Remove and set aside. 

Add 2 tbsp butter and thinly sliced Brussels sprouts to the skillet. Season with sea salt and pepper and sauté. Cook for approximately 10-15 minutes, mixing regularly.

Add the onions, Brussels sprouts, eggs, and bacon to a large bowl and mix. Add the cubed avocado on top of the Brussels sprouts mixture. Drizzle balsamic vinegar on top, and season with salt and pepper to taste. Serve warm.