Dill Pesto Recipe [Paleo, Primal, Vegetarian, GF, 21DSD]
During our travels this summer, we had an amazing dinner in Florence, Italy. The food was so good that we ate lunch AND dinner at Trattoria Il Francescano during the course of one weekend. The salad that I ordered came with pesto sauce on it. This may seem simple, but for me it was revolutionary. I've used pesto in soups, on pizza, and on salmon, but never on salad. Since then I've been pretty obsessed with making my own basil pesto. Last week at the farmers market, Tomatero had huge bunches of fresh dill. I only needed a little for my salmon dinn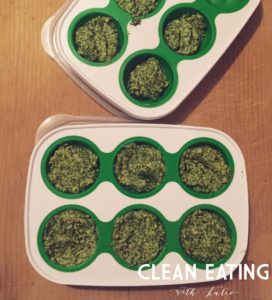 er that night, so rather than let the herb go to waste, I decided to make Dill Pesto. Result = AMAZING. I have these cool little herb freezer storage containers that allow me to save the extra. Highly recommended!
Recipe:
2 small bunches of dill
1/3 cup pine nuts
1 lemon, juiced
1/4 cup extra virgin olive oil
1 tsp. Simply Organic garlic sea salt
1 tsp. Simply Organic lemon pepper 
Directions:
Rinse the dill and trim the ends off.
Add all ingredients to food processor and pulse until combined. A blender could be used instead.
Serve on salads, veggies, or on salmon. Enjoy!
Olive Oil is a great source of omega-9 fatty acids, copper, iron, and vitamin E. Olive oil has been shown to help manage and prevent cardiovascular disease, asthma, arthritis, cancer, and blood sugar disregulation. It also helps to lower inflammation.
Dill is a member of the Umbelliferae family which includes, carrots, celery, parsley, and fennel. Dill has been shown to reduce flatulence and digestive ailments. It also has antimicrobial and anticancer effects. It helps the liver in detoxification. Dill is also a known sleep aid. In addition to its phytonutrients, it is rich in vitamins A and C and manganese and potassium.
Pine Nuts are a good source of protein – more than any other nut or seed! They are a good source of vitamins B1, B2, B3, and E and manganese, copper, magnesium, molybdenum, zinc, and potassium.
Sources:
Murray, M., Pizzorno, J., & Pizzorno, L. (2005). The Encyclopedia of Healing Foods. New York, NY: Atria Books.
World's Healthiest Foods. (November 8, 2015) Retrieved from: http://whfoods.com/index.php