Jennifer Tyler Lee has found something that I almost never eat; I believe I have had it once or twice. I don't think okra is very common out here in California but I know I have seen it in some Indian dishes. It's not that I don;t like it, but since it isn't very common I haven't sought it out much. Jennifer Tyler Lee recommends sautéing it with garlic or making an Okra Risotto. I love risotto, so I'm supporting this option!
Food Facts: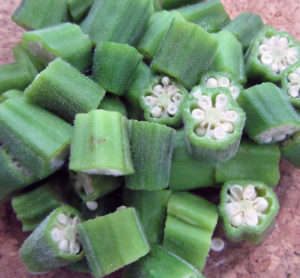 It originated in Africa and migrated to the Mediterranean.
It is a mucilaginous veggie which some folks like and other detest.
Good source of vitamins A, B6, C, and K, folate, niacin, riboflavin, manganese, calcium, magnesium, copper, and potassium.
Good source of fiber.
It contains the antioxidants beta-carotene, lutein, and zeaxanthin.
Studies have shown that the seeds in okra may help reduce the risk of prostate cancer.
In mice studies, the antioxidants helped to reverse cognitive deficits that were due to nerve damage.
Cooking okra does not lessen the nutrient value.
Younger okra pods are less mucilaginous.
From The 52 New Foods Challenge
by Jennifer Tyler Lee and Superfoods
by Tonia Reinhard.