What's a FODMAP? It's not a fad diet or something that everyone needs to try. I recently began working with a Gastroenterologist on solving some digestion problems, specifically SIBO, or small intestine bacterial overgrowth. Part of this process means going on a low-FODMAP diet for about 5 weeks. 
FODMAP stands for Fermentable Oligosaccharides Disaccharides Monosaccharides And Polyols. These types of carbohydrates that are not absorbed properly in the gut, which for some, can trigger symptoms like bloating, gas, & abdominal discomfort.
I am having to navigate restaurants and cooking while doing the low-FODMAP diet and I decided that I really wanted chili, but that means no onions, garlic, & celery, which are staples in my chili. It took some creativity, but I think I created quite a winner.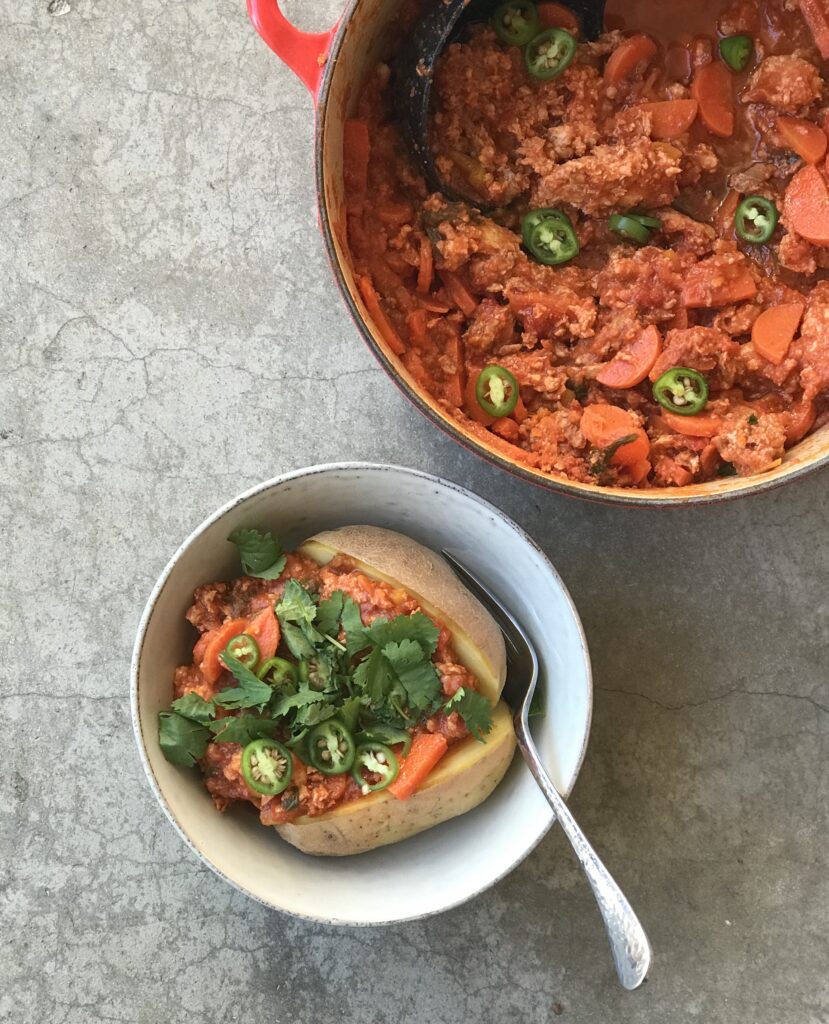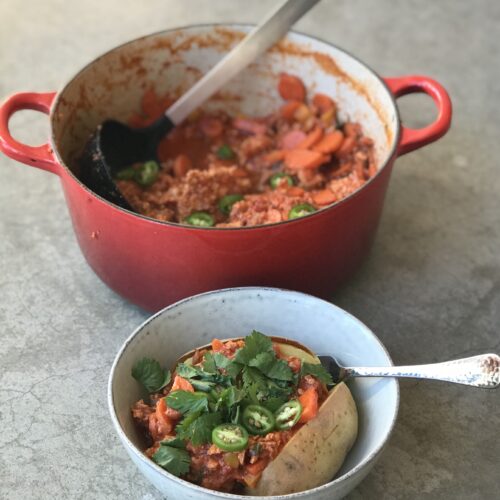 Low-FODMAP chili
While working on healing my SIBO, I needed to try a low-FODMAP diet, which meant removing some staples from my typical chili recipe (onions, garlic, & celery). Regardless of whether or not you are low-FODMAP, this chili recipe is tasty and will be a nice addition to your recipe repertoire.
Ingredients
Chili Ingredients
7

oz

organic tomato paste

18

oz

diced organic tomatoes

1

cup

bone broth

2

lbs

grass-fed ground beef

ground meat of any type will do

4

large

carrots

diced

1

yellow bell pepper

diced

4-5

kale leaves

destemmed and coarsely chopped

2

serrano peppers

thinly sliced

2

tbsp

cilantro, chiffonade

1

tbsp

grass-fed butter

6

yukon gold potatoes, baked

optional
Spice Blend
1

tsp

sea salt

½

tsp

fresh ground pepper

½

tsp

coriander

½

tsp

cayenne pepper

½

tsp

cumin

1

tsp

chili powder
Instructions
Add butter to a large soup pot and melt. Then add carrots and bell pepper and sauté over medium high. 

Add diced tomatoes, tomato paste, one of the serrano peppers, and broth to mixture and stir well. Add spice blend, stir again. 

Add in the ground meat, crumbling it in as you add it.

Stir everything together and reduce heat to medium-low. Cook for about 35 minutes. Add the kales leaves and about half of the chopped cilantro into the soup pot about 15 minutes before it's done cooking. 

If desired, serve on top of a baked potato and garnish with cilantro and remaining sliced serrano peppers. If not using a baked potato, serve in a bowl and add garnishes.