Strawberry Chia Seed Pudding [Paleo, GF, Primal, Vegetarian]
Recipe: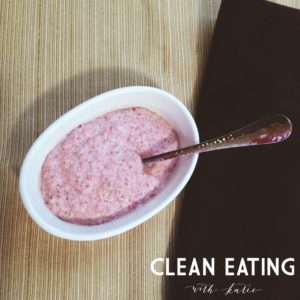 1 can full-fat coconut milk
2-4 tbsp. chia seeds (2 for a thinner pudding and 4 for a thicker pudding)
10-15 organic strawberries, rinsed and trimmed
1 tsp. vanilla
2 tbsp. raw honey
Directions:
Place coconut milk, chia seeds, and strawberries in food processor and pulse until it becomes a smooth consistency.
Add the vanilla and honey. Pulse until just incorporated.
Place into small jars and store in refrigerator for 1-2 hours or overnight. Chia seeds become gelatinous and will thicken the pudding as it sits. It can also be eaten right away.
Modifications:
There are many other options for chia seed pudding. Try experimenting with other seasonal fruits like peaches, raspberries, pears, blueberries, and even pumpkin. Also consider adding nuts, other seeds, and spices. The possibilities are endless!
Coconut Milk comes from the coconut and is found in tropical regions in Asia, Latin America, and the Pacific Islands. Coconuts contain healthful medium chain fatty acids such as lauric acid and capric acid, which are antiviral and antibacterial. These medium chain fatty acids are easily absorbed by the body and help to increase the metabolism. They also protect against heart disease and promote weight loss. In addition to fatty acids, coconuts also contain healthy carbohydrates and some protein. Coconuts are a good source of manganese, molybdenum, copper, zinc, and selenium. When choosing a coconut milk, avoid the low fat options because the beneficial medium chain fatty acids have been removed.
Chia seeds are those same seeds that are used in the popular Chia pets. They come from the plant Salvia Hispanica that grows in the deserts of Mexico. They help to reduce food cravings, reduce blood pressure, control blood sugar, and they are easier to digest than flax. Chia seeds should be soaked in water before using, creating a chia gel, which helps to hydrate the body. Chia seeds are rich in Omega-6 and Omega-3 fatty acids. They are also a good source of antioxidants, potassium, calcium, iron, dietary fiber, and they have some protein too!
Strawberries are the most popular berries in the world and are native to many parts of the world. Strawberries are rich sources of vitamins C, K, B6, and B1, silicon, fiber, flavonoids, manganese, pantothenic acid, iodine, folic acid, and biotin. Their flavonoid content helps to protect against inflammation, cancer, and heart disease. When storing berries, do not wash them until you plan on eating them because berries start to breakdown when they are moist. Strawberries are consistently on the Environmental Working Group's Dirty Dozen list, so it is very important to buy organic strawberries.
Honey is one of the four items that bees produce. Honey is rich in riboflavin, iron, manganese, and vitamin B6. It is also rich in antioxidants and it is an antiseptic. Local honeys are also said to help with seasonal allergies.
Nutrition Facts for one 1/2 cup serving
DISCLAIMER: I am NOT a Registered Dietician or Medical Doctor. As such, I do NOT provide medical nutrition services, or diagnose and treat disease. Rather, I educate people on the benefits of a healthy lifestyle to improve their quality of life. I advise people with existing medical problems to consult with medical doctors. I shared evidence-based health information, whether to class participants, wellness counseling client sessions, or on this website.
Sources:
Bauman, E. & Friedlander, J. (2014). Foundations of Nutrition. Penngrove, CA: Bauman College.
Environmental Working Group (EWG). (2014, April). EWG's 2013 Shopper's Guide to Pesticides in Produce. Retrieved from http://www.ewg.org/foodnews/summary.php
Murray, M., Pizzorno, J., & Pizzorno, L. (2005). The Encyclopedia of Healing Foods. New York, NY: Atria Books.
Nuts.com (2014, April). 7 Good Reasons to Start Eating Chia Seeds. Retrieved from http://www.nuts.com/cookingbaking/chia-seeds/premium.html
WebMD. (2014, April). The Truth About Chia. Retrieved from http://www.webmd.com/diet/features/truth-about-chia