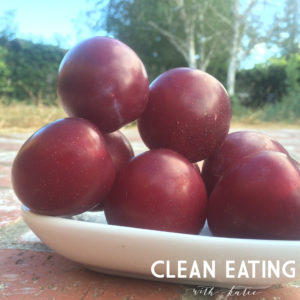 I have very fond childhood memories of eating all the fruit growing up. My grandfather grew up on a farm in Lake Huron, MI. When the Essenmacher clan moved to California, he set up a bountiful backyard garden. Among the many things that he grew were plums. The plum tree was nestled next to my childhood swing set. I still love plums to this day and I'll give my grandparents all the credit for my fruit addiction.
Jennifer Tyler Lee suggests that readers roast plums with pistachios or try making an Asian plum sauce. While I can easily eat about a half dozen fresh farmer's market or backyard plums, I do like the idea of cooking the fruit. I'm particularly fond of grilled stone fruit served over some vanilla ice cream.
Food Facts:
Wild varieties pack the most nutrients. Look for red, purple, black, or blue plums because they will have more phytonutrients, especially anthocyanins.
Plums should be ripened on the the tree and can be susceptible to chilling injury.
Plums are a good source of vitamins A, B1, B2, B6, C, K, fiber, potassium, and copper.
Plums and prunes (or dried plums as they are now being referred to in order to boost their popularity) are known for their laxative effects.
Their content of neochlorogenic and chlorogenic acids [phenols] has been documented to have antioxidant and anticancer properties.
From The 52 New Foods Challenge: A Family Cooking Adventure for Each Week of the Year, with 150 Recipes
by Jennifer Tyler Lee, Encyclopedia of Healing Foods
by Michael Murray, Joseph Pizzorno, and Laura Pizzorno, Superfoods: The Healthiest Foods on the Planet
by Tonia Reinhard, and Eating on the Wild Side: The Missing Link to Optimum Health
by Jo Robinson.