I LOVE eating seasonally for three main reasons. 1) Seasonal produce usually grows locally and is therefore fresher because it hasn't traveled nearly as far as when it is not in season. 2) It promotes local jobs and boosts our local economy. 3) Seasonal produce TASTES significantly better than when it's picked unripe in order to travel, then traveled for many days, and then gassed with ethylene gas to artificially ripen them. I make very few exceptions to my seasonal eating rule [frozen berries, bananas, plantains, and that's pretty much it].
In Barbara Kingsolver's book Animal, Vegetable, Miracle she discusses eating tomatoes so much while they are in season that you almost become
sick of them.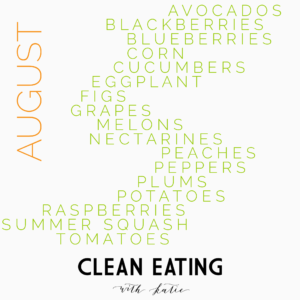 You don't crave them as much during the offseason and you're not tempted to eat a tasteless mealy tomato in January, because your tomato craving has been satiated for the year. I love this way to view it and have tried to really adopt this mentality since reading her book in 2011.
Go to your local farmer's market this weekend and get some local food!
Health & Hugs <3,
Katie