Lentil Soup with Turkey & Veggies
This soup was created with liver health in mind. Midway through my chemotherapy treatment for Breast Cancer, my liver enzymes were too elevated to continue treatment. We had to postpone treatment for at least one week to make sure that my liver was healthy enough to process the chemotherapy. At that time I was in school to become a Nutrition Consultant and I knew there were things that I could do to "Love my Liver", so I went home and made some BIG changes to my diet for that week and well, IT WORKED! I went back the next week and my enzyme levels were low enough to continue with chemotherapy. Here is one of the recipes that I made for the "Love my Liver" week.
Recipe:
1 1/2 C green lentils (soaked overnight)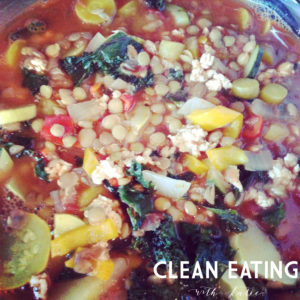 1 jar diced tomatoes
24 oz. homemade bone broth (chicken or turkey)
2 T butter
1 onion, diced
3 cloves garlic, diced
4 small summer squash, sliced
3 small bell peppers, diced
6 carrots, sliced
6 stalks of kale, de-stemmed and coarsely chopped
1/2 lb. ground turkey
Herbs:
Bay leaf, basil, rosemary, thyme, oregano
Sea salt & Pepper
Rinse lentils and let soak overnight. Next day: in a large pot, sauté onions and garlic in butter. Add broth, tomatoes, lentils, and veggies. Add ground turkey. Bring to a boil and then reduce to simmer. Continue simmering for 30-45 min.
Enjoy!