My first taste of chilaquiles was in Cabo San Lucas in 2016. I know, I've been living under a rock. Since then I've had them a few additional times and it's heaven every time. There's one big problem with restaurant chilaquiles: they're using chips fried in vegetable oils. I don't 100% avoid vegetable oils, but I avoid them about 95% of the time. Not sure why I avoid vegetable oils, read more here.
How do Chilaquiles fit into a seasonal eating model? Cilantro, radishes, and onions are all in season right now. Plus, I made these for Cinco de Mayo!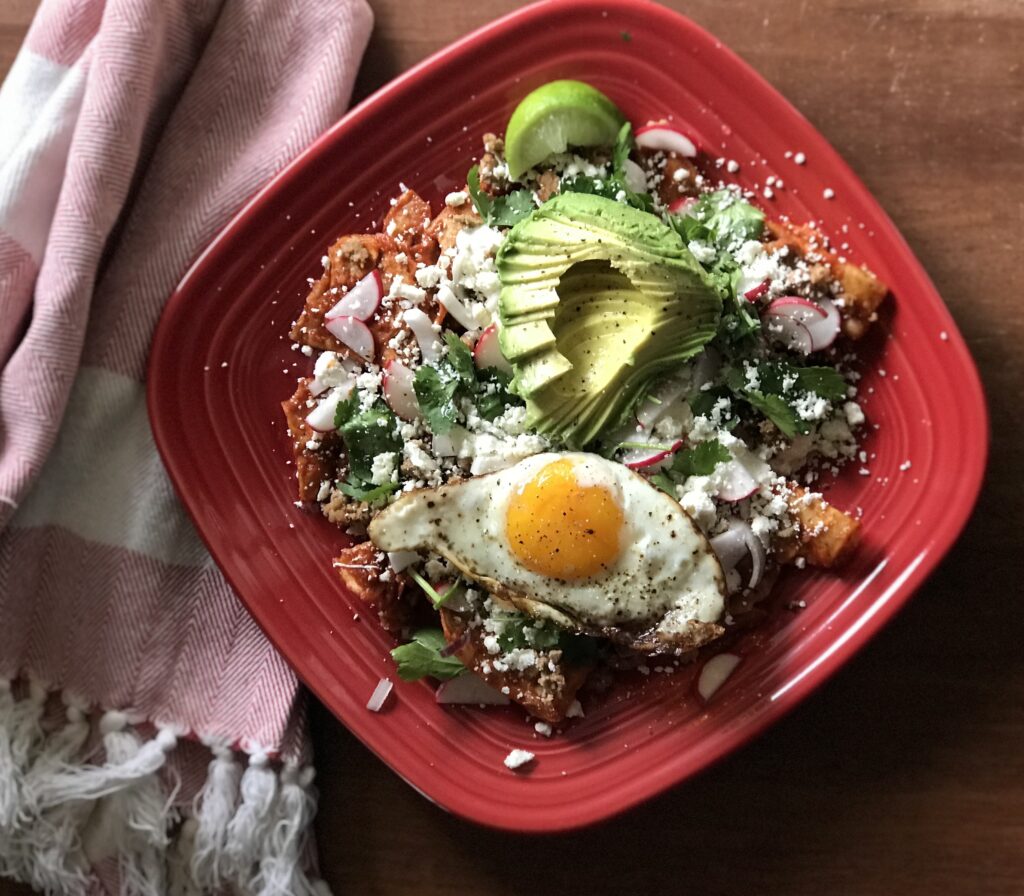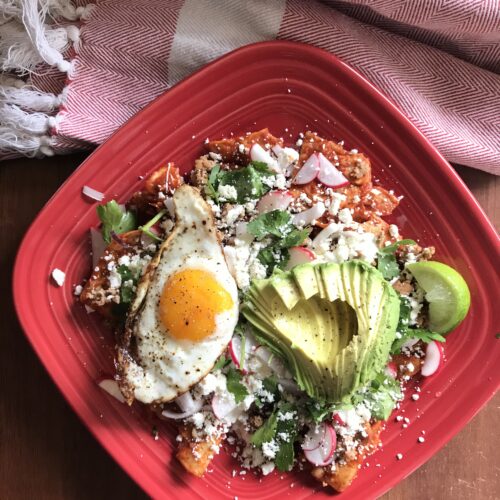 Chilaquiles
Chilaquiles just might be the perfect food. There is a nice balance of carbohydrates, protein, and fat, plenty of vegetables and they are packed with flavor! If you haven't made them, you will not regret making them for breakfast, lunch, or dinner!
Ingredients
Chilaquiles Sauce
7

oz

organic tomato paste

12

oz

chicken bone broth

4

tsp

ancho pepper adobo sauce

2

tbsp

taco seasoning

¼

tsp

sea salt

fresh ground pepper
Ingredients
4

eggs

pasture-raised

1

lb

pasture-raised ground turkey

or ground meat of choice

1

tbsp

taco seasoning

1

bunch

radishes

cut into half moons

2

spring onions

thinly sliced

2

avocados

halved and thinly sliced

8

oz

sour cream

8

oz

cotija cheese

crumbled

3

tbsp

cooking fat

ghee, butter, bacon fat, etc.

2

bags

Siete Grain-Free tortilla chips

1

lime

quartered

sea salt

to taste

fresh ground pepper

to taste
Instructions
Add the broth and tomato paste to a large sauté pan at low-medium heat (the larger the pan the better). Mix together with a whisk. Add the ancho pepper adobo sauce, taco seasoning, sea salt, and pepper. Mix again. Allow the moisture to evaporate and thicken the sauce a little. Be sure to stir the sauce so that it doesn't stick to the pan and burn. The consistency should be similar to that of enchilada sauce. (Too thick? Add more broth. Too thin? Cook a little longer, continuing to mix with the whisk.) Set aside.

In large skillet, add 1 tbsp. of cooking fat. Melt  over medium-heigh heat. Add ground meat and use a spatula to break up the meat and cook through. Add the taco and fajita blend while the meat is still raw to increase the flavor. Continue cooking until the meat is cooked through. Set meat aside in a medium bowl. 

Add remaining cooking fat to the skillet of medium-high heat. Once fat is hot, crack the eggs in the pan one at a time. Keep each separate from each other for ease of cooking and serving. Cook until whites are cooked through and yolk is at desired consistency. 

Depending on the size of the pan you used for the sauce, you may need to coat the tortilla chips in the chilaquiles sauce in two batches. Turn the chilaquiles sauce pan back on to low and add Siete Grain Free Tortilla Chips. Slowly mix to coat each chip. Chips should be soggy but still hold their shape. 

On each plate layer ¼ of chilaquiles chips. ¼ of the ground turkey, ½ an avocado, 1 fried egg, and onions, radishes, cilantro, sour cream, and cojita cheese to taste. Add a squeeze of lime and serve.