It's no secret, I'm not a fan of raw tomatoes. I've never liked them. In fact, I'm the black sheep of the family in regards to my dislike of tomatoes. With that being said, I believe that one day I will love raw tomatoes [growth mindset]. I do like cooked tomatoes of all kinds (except ketchup, yuck!). I am starting to like heirloom tomatoes in a caprese salad. I think the reason I don't really like tomatoes is because of their strong flavor – it totally changes the taste of a burger, sandwich, or salad. Jennifer Tyler Lee and I are kindred spirits in this way. 🙂 The other fact that helps me feel justified in not liking raw tomatoes is that unless it's summer, tomatoes are either grown in greenhouses or internationally, or are grown in Florida (Florida's "soil" is actually just sand and is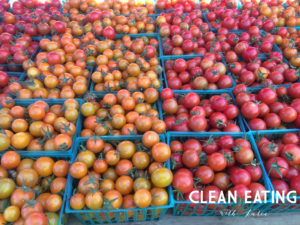 void of nutrients). So unless they are garden tomatoes or farmer's market tomatoes, they are often mealy and are picked when green. The book Tomatoland: How Modern Industrial Agriculture Destroyed Our Most Alluring Fruit is fascinating. Highly recommended! Anywho… Jennifer Tyler Lee recommends roasted tomatoes, tomato sauce, and tomato pops! I recently made a cherry tomato chutney at a Sur la Table cooking class – it was delicious!
Food Facts:
They are technically a fruit!
Tomatoes belong to the nightshade family (along with potatoes, eggplant, peppers- all kinds, and some spices). Nightshades are known to be inflammatory. Nightshades are commonly removed during a 5-R Protocol to determine food intolerances.
There are over a THOUSAND different types of tomatoes and can be a variety of shapes, sizes, and colors.
Native to South America.
The leaves of the tomato are toxic. It was long believed that tomatoes were poisonous because they belong to the nightshade family which houses other poisonous plants (poisonous nightshade and black henbane).
Great source of vitamins B6, C, and K, carotenes (especially lycopene), beta-carotene, biotin, folic acid, pantothenic acid, niacin, and fiber.
Lycopene content is FIVE times greater in cooked tomatoes because cooking causes the cell walls to burst and "free" the lycopene. Also, the redder and riper the tomato, the more lycopene content.
Lycopene in particular has been shown to protect against cancers of the breast, colon, lung, skin, and prostate. Additionally, it has been shown to lower the risk of heart disease, cataracts, and macular degeneration.
Highest levels of vitamin C can be obtained from raw tomatoes.
Fully ripe tomatoes cannot be shipped long distances. Therefore they are picked when underripe and then gassed with ethylene. You probably know what I'm going to say here….buy them at a local farmer's market, CSA, or grown your own!
Cherry tomatoes have more lycopene per ounce and are sweeter and more flavorful than their larger counterparts. Smaller is better!
From The 52 New Foods Challenge: A Family Cooking Adventure for Each Week of the Year, with 150 Recipes
by Jennifer Tyler Lee, Eating on the Wild Side: The Missing Link to Optimum Health
by Jo Robinson, Superfoods: The Healthiest Foods on the Planet
by Tonia Reinhard, and Superfoods: The Healthiest Foods on the Planet
by Michael Murray, Joseph Pizzorno, and Lara Pizzorno.