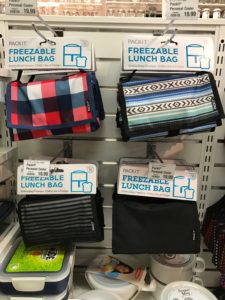 My favorite Lunch Box (it has freezer packs built right in!)
PackIt Freezable Lunch Bag
MONDAY
Smoked salmon and Paleo Gingered Beets. This smoked salmon from Vital Choice has no sugar.
TUESDAY
Jalapeno-dill Tuna Salad from The 21-Day Sugar Detox Cookbook
WEDNESDAY
Turkey, Bacon, and Avocado Lettuce Wraps
Directions:
Layer sliced turkey, bacon slices, and avocado on the inside of romaine lettuce. Top with a drizzle of mustard. Optional: add additional veggies – sprinkle with diced olives, diced tomato, diced onions, pickles, or peppercinis, etc.
I like to make about 3-4 of these depending on how hungry you usually are at lunch time.
THURSDAY
Shrimp and Avocado Salad and a green salad.
Basic Salad Building Rules:
Greens – Choose your base of greens: spinach, kale, mixed greens, romaine, butter lettuce, etc.
Veggies – Add more veg: bell peppers, carrots, beets, cucumbers, artichokes, radishes, avocado, jicama, cabbage, etc.
Fruits – Add some fruit!
Nuts/Seeds – Add a sprinkling of pumpkin seeds, pecans, almonds, macadamia nuts, etc.
Cheese – Add some feta, goat cheese, parmesan, or whatever cheese you have on hand.
Salad Dressing – check out this post of my favorite homemade salad dressings.
BOOM! Now you ave an epic salad to go with your shrimp and avocado salad.
FRIDAY