The July 2016 Book of the Month is Gulp: Adventures on the Alimentary Canal by Mary Roach. While attending Bauman College, for my Nutrition Consultant certification, one of my teachers recommended this book to me. It was fascinating! I give Gulp *5 strawberries*.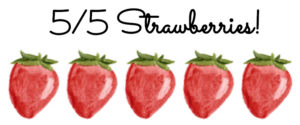 Roach begins the book at the beginning of the digestive system, or alimentary canal, as she refers to it, and works her way to end of the alimentary canal, detailing the function of each organ along the way. She interweaves anecdotal stories and humor throughout the book making it delightful, funny, and thoroughly educational.
Is it weird to admit that the chapter that sticks with me the most is the chapter on fecal transplants? This book was the first time that I had heard of them, but since reading it, I have heard of the idea in several other books and podcasts. Roach illustrates that in our current society, we have demonized all bacteria and become a culture sanitizing madmen. And while bacteria can be harmful, bacteria also makes up 90% of all the cells in our body and we wouldn't be living without bacteria. Currently, fecal transplants are mainly used to cure C. diff  infections, but doctors and researchers are finding that there could be a greater need for fecal transplants due to the overuse
of antibiotics and sanitiz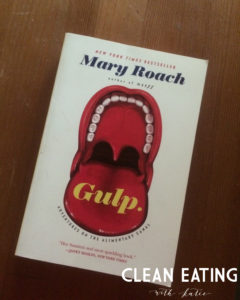 ing efforts. Roach states "Rarely does medical science come up with a treatment so effective, inexpensive, and free of side effects" (Roach, 2013, p.321). The main side effect is probably the "ick factor".  😉 I finished the book thinking that this might possibly the way of the future.
I highly recommend Gulp to anyone that is fascinated by the amazing human body.