Well, this post is later than I had planned, but better late than never! Summer is in full swing here in Northern California and it has been quite warm. School is out, the days are long, sunny, and beautiful, and the bounty of produce options leaves me like that heart googly eyed emoji.
Now we have herbs like basil in season. And…….. Blueberries!!!!! I literally can't get enough of them. Next up is corn. I know most people LOVE corn, and I while I do like it, I almost never eat or buy it. If I do, it absolutely must be organic. Once we went paleo, it was one of those things that I just didn't feel the urge to splurge. I am also very excited that it is now raspberry  and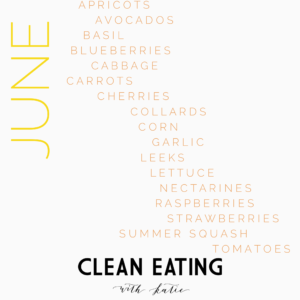 nectarine season. And that summer squash will be coming to a zoodler near you! Here is the Spiralizer that I use to turn my zucchini into "noodles":  Tri-Blade Vegetable Spiral Slicer, Strongest-Heaviest, Best Veggie Pasta Spaghetti Maker for Low Carb/Paleo/Gluten-Free Meals
.
Happy June! Enjoy the bounty from the farmer's market!! Or join a CSA!
Hugs & Health <3,
Katie