The topic of self-care has come up quite a bit lately in my social media circles. I've even written about it here. There's a lot of debate as to what exactly is self-care and what is not self-care, how expensive self-care should or shouldn't be, and the like. I guess I find myself squarely in the "you do you self-care" camp. To me this means, if what you're calling self-care nourishes your body, mind, and/or your spirit, then it's self-care for you. It might not necessarily float my self-care boat, but that doesn't actually matter.
If you've been following along on Instagram for a while, you know that I like to find quotes and images on Sundays (I mean,  hashtag self-care Sunday, after all!) of what self-care might include for you and me. For me, it's often a pretty broad term, it can include pampering activities like massages and DIY facials, social activities like spending time with friends, family, and fur-babies, or even solo time activities like reading, sleeping, and being creative. There is no one perfect list of self-care ideas. I think self-care may evolve during one's lifetime and what might be self-care for you now, may not nourish your body, mind, or soul in the future.
I've put together a list of self-care ideas that I currently enjoy. Oddly enough, almost everything on this list is FREE or can be low-cost. I didn't set out to create a list of free self-care ideas, but when I was generating my current favorites, this was the result. It almost seems like an interesting psychological experiment that just highlighted that I value the free things in life more than money. OR am I just reading into this too much?
Feel free to download Self Care Bingo  and share like crazy.
2020 Update: Here is a new self-care bingo board. Download, play, and share +tag @cleaneatingwithkatie.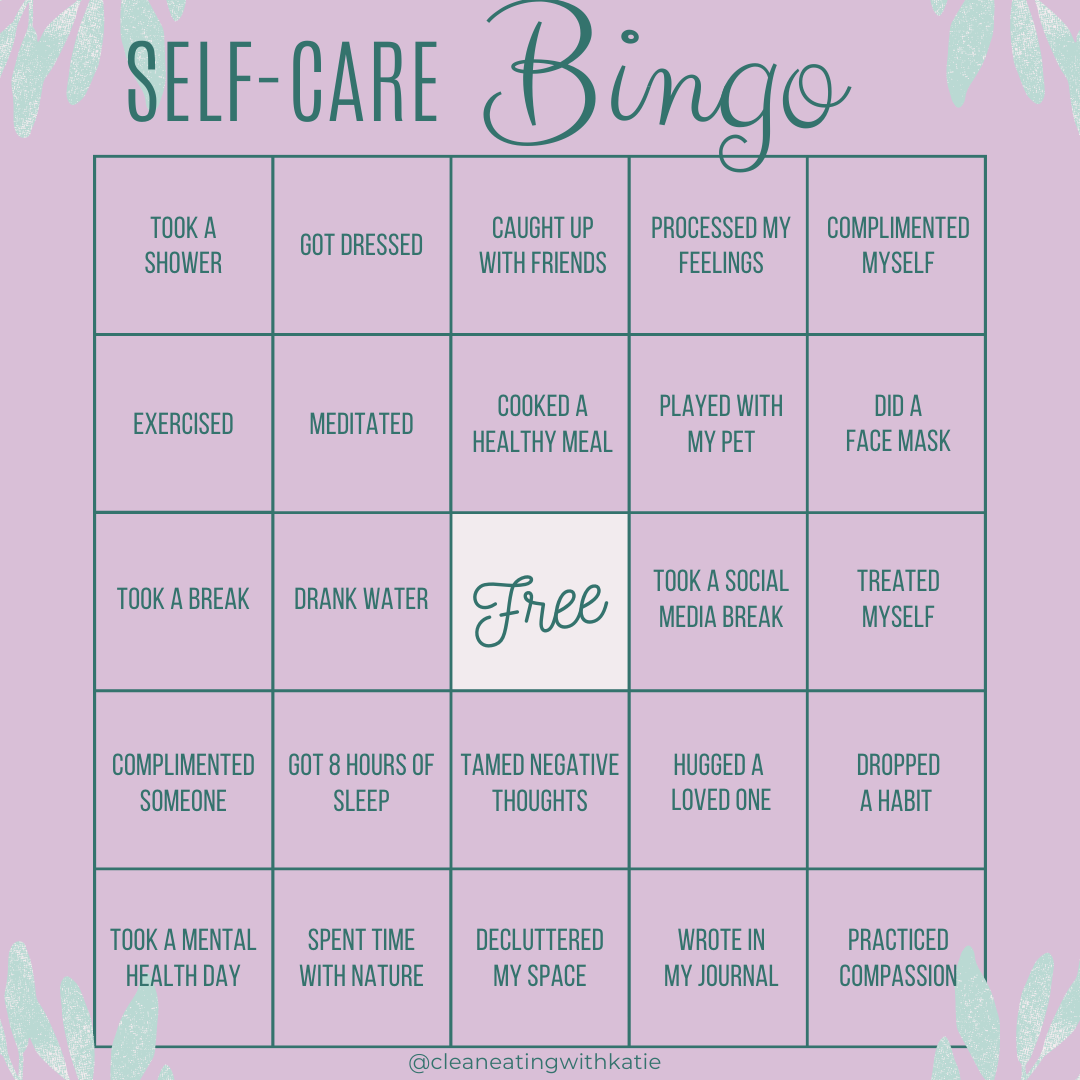 What's your favorite self-care?