Hey Oily friends!
If you're like me, one of the reasons why you decided to try Young Living essential oils was to reduce the toxins that you are exposed to in your everyday life. For me, that means reevaluating the products I use in my skincare routine each and every day. And artificial fragrances are on the top of my chopping block. In add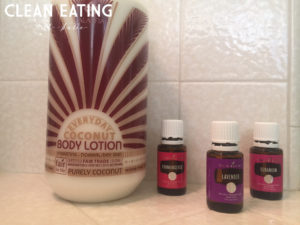 ition to avoiding the artificial junk, I wanted to start trying out oils that can support healthy skin.
I know many people like to just buy ready made body lotions. Others prefer to make it all from homemade ingredients. For me, I wanted something in the "Goldliocks" zone, not too much work and not too expensive. Here's what I've been trying out:
1. For a full bottle of lotion, I add about 10-15 drops each of lavender, geranium, and frankincense. Then shake like crazy to mix!
2. Here's a new recipe I'm trying: For a full bottle of lotion: 10-15 drops of lavender, geranium, and frankincense, and then 5-10 drops of peppermint, tea tree, and rosemary. Again, shake like crazy to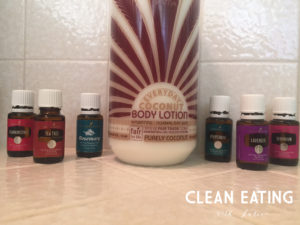 mix! 🙂
I like this lotion because it's fair trade, lightweight, and paraben free, but I'm sure you could add these oils to other lotions that work well for you. I would recommend only using oils that agree with you before you lather it on. 🙂
Let me know if you try an essential oil blend in your lotion and how you like it.
Hugs & Health <3,
Katie